Respite Care in Shreveport, LA & Surrounding Areas
Respite care from Comfort Keepers of Shreveport, LA gives you a break from providing care at home so you can rest, recharge, or focus on other important matters.
Caregiving can be a rewarding and bonding experience within a family, yet in even the best situations, the responsibility and ongoing routine can be stressful and tiring—especially when balanced with a job or caring for children.
When family caregivers are emotionally drained, they are likely less effective at providing critical care at home. Comfort Keepers of Shreveport, LA can provide respite care or temporary relief to those who care for family members who might otherwise require permanent placement in a facility outside the home.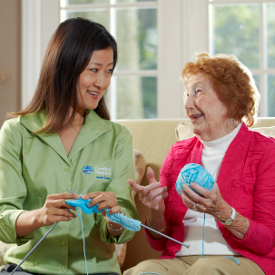 What is Respite Care?
Known in some countries as "short break" care, respite care services provide planned short-term breaks for families and other unpaid caregivers who need time outside the home or to simply take a rest. Respite care helps support and maintain the primary caregiving relationship.
How Respite Care Can Help
Respite care gives you time to leave the home for a few hours or even a few days, knowing the one you care for is in good hands. Whatever you need a break for, we'll be there for them so you can take care of you. This allows you to take care of errands and other duties/responsibilities while someone else provides senior care at home. We know how important it is for you to ensure your senior loved one is cared for and provided for, and we want to help. Our care at home creates time to
take care of the errands you never seem to have time for.
catch up on your shopping.
attend a support group meeting.
visit a doctor or dentist for routine care.
give yourself a much-needed rest.
Comfort Keepers respite care services can be scheduled for as little as a few hours a week. Additionally, around-the-clock care can be arranged so you can take a longer break to attend a wedding out of town, take a child to college, or go on a much-needed vacation.
To learn more about respite care available to you and your senior loved one, contact us or call (318) 215-9484 to schedule a free in-home consultation. One of our care coordinators would be happy to assist you with any of the questions you may have.
Take Time Off With Respite Care in Shreveport, LA
Family Caregivers Can Rest Better with Respite Care in Shreveport, LA
Caring for a senior loved one should be a priority for family members, but doing it for an extensive amount of time can be quite stressful. The challenges that continue to progress with the presence of dementia, cancer, and other complications that may come with old age can really take a physical, mental, and emotional toll on the person providing the care.
In many cases, caregivers don't really bother to take time off of their elderly care duties. They keep at it even when they lack the experience and training, which can result in a quality of care that might not be ideal for the senior. Most likely, the caregiver will get burned out and make him or herself prone to stress-related problems like medical or psychological issues including but not limited to social isolation, fatigue, and lower body resistance. And if the caregiver is in that state, it's quite difficult for him or her to be able to fully care for the senior.
You Might Need Respite Care from Shreveport, LA
But caregivers don't have to push themselves to the point of fatigue. They can create a balance between caring for their loved one's well-being as well as their own. That way, they can ensure the safety and comfort of their senior loved ones without having to sacrifice the other aspects of their life that are also important. But the question is: how?
The answer, of course, is respite care. This is a kind of caregiving service that employs the short-term care of caregivers in order to take the place of family caregivers who badly need to take some time off their daily care routine. While respite care is intended to be temporary, the actual period of care can vary between a few hours to up to a couple of weeks. They can, however, be regular in order to make sure that the caregiver will always have the chance to rest and recuperate.
By taking care of your own health and well-being during respite care, you're able to recharge and prepare yourself for when you go back to caring for your loved one again. This means that your senior loved one will be getting the best kind of care he or she can get from you. So if you need to take some time off your caregiving responsibilities in Shreveport, LA, contact us or call (318) 215-9484 to get more information about our in home care services and schedule a free in-home consultation.
Respite Care Helps You Manage Your Responsibilities Around Shreveport, LA
While caring for a senior loved one is indeed a noble task, the long term commitment of providing for and watching over the elderly can be stressful. Most family caregivers often end up focusing too much on the person they're caring for that they forget to attend to their own personal needs. They lose sleep, forget to eat, and sometimes forget their other responsibilities.
This can take a toll on the caregiver him or herself, causing what is popularly known as caregiver burnout. This is bad not only for the health and wellbeing of the caregiver but also for the person under his or her care as well. Being sick or stressed out can affect the kind of care that the caregiver gives to the senior.
The good news is that this doesn't have to be the case. For those who are caring for loved ones in Shreveport, LA, they can call on good respite care services to help them cope with the stress that comes with caregiving.
How Does Respite Care Help Caregivers in Shreveport, LA?
The best solution to caregiver burnout is avoiding it by taking time to rest and recuperate from the daily grind of providing elderly care. Respite care gives you that by having another caregiver take your place while you go take some time off by going on vacation or simply catching up on your rest. This is perfect if you start to feel like your responsibilities are starting to catch up with you or when you're sick and need to stay in bed.
Respite care is also helpful for those who need to be able to balance their other responsibilities with caring for a senior loved one. Maybe you need to spend a few extra hours at work or need to go on a business trip and you're worried no one might be around to care for your loved one in Shreveport, LA. With in home care, you can go on with your other responsibilities knowing that someone else is there to fill in for you.
Don't worry; Comfort Keepers is ready to provide reliable senior care services to residents of Shreveport, LA all day and throughout the year. Whether you need someone to take over for a few hours or a few weeks, contact us or call (318) 215-9484 and we'll help you out