Knox
Dementia Care in Monticello, IN
Senior Care in Rochester, IN
Caregivers in Monticello, IN
Respite Care in Wabash, IN
Senior Care in Warsaw, IN
Delphi
Respite Care in Rochester, IN
Camden
Rochester
North Manchester
Caregivers in Warsaw, IN
Monticello
Senior Care in Monticello, IN
Elder Care in Rochester, IN
Dementia Care in Warsaw, IN
Respite Care in Monticello, IN
Respite Care in Warsaw, IN
Logansport
Wabash
Alzheimer's Care in Monticello, IN
Rensselaer
Warsaw
Culver
In-Home Care For The Delphi, IN Community
Comfort Keepers offers a full range of in-home care services for seniors in Delphi, IN who want to stay at home. Call (574) 626-4336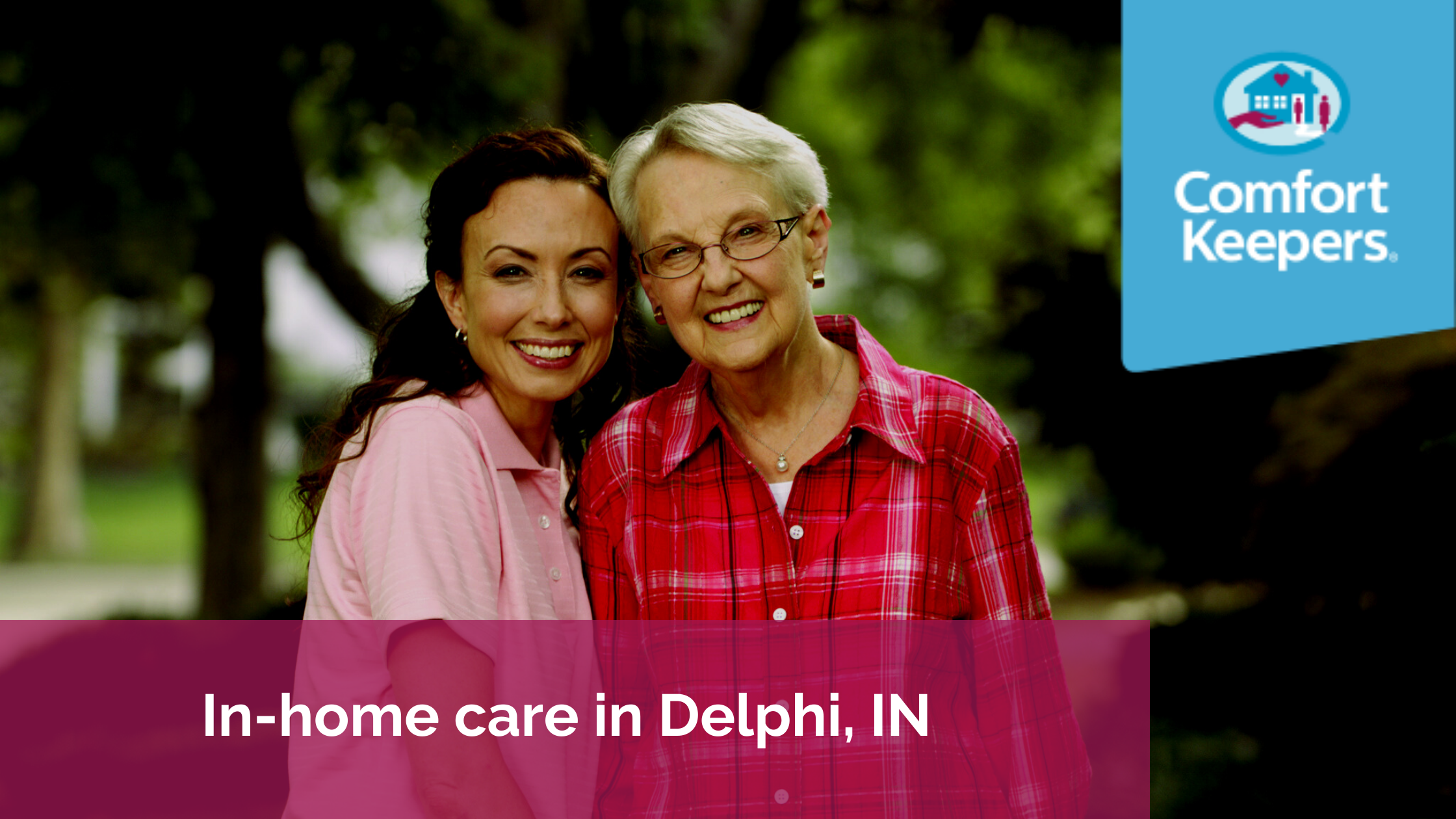 Call (574) 626-4336 to learn about Comfort Keepers in-home care in Delphi, Indiana, and the surrounding communities.
As seniors age, day-to-day life can become more of a challenge. Whether movement becomes more difficult, or a decrease in dexterity makes small tasks like fastening buttons a struggle these small inconveniences can add up to make a significant impact on a senior's quality of life. Seniors who have established a home and a way of life in Delphi, IN probably want to remain in the home they have worked to maintain for as long as possible. Even with changes to daily life, and the struggles that aging can present, it is still possible for seniors to remain independent at home with in-home care from Comfort Keepers.
Comfort Keepers offers a wide range of in-home care services in Delphi, IN to help seniors avoid moving to a retirement home. The difference between a senior living at home or being moved to a retirement home is often just a matter of getting help with a few small tasks. Our basic care services can be customized depending on the senior's needs, but generally, this covers personal care and hygiene, help getting ready in the morning, light housekeeping, and assistance preparing nutritious meals.
Comfort Keepers in-home care services in Delphi, IN
Transportation & Light Housekeeping
Compassionate in-home care in Delphi, IN
No matter what level of care your senior needs, all services follow our Interactive Caregiving model. Interactive Caregiving is characterized by caregivers engaging seniors in the care process, whether by having the senior take a more active role or by engaging the senior in conversations to discover likes and dislikes. As part of Interactive Caregiving care providers will engage the senior in conversations about their life, play games, or take the senior on excursions to favorite local shops and restaurants. It has been shown that this type of care increases the reported quality of life for seniors.
Our area care providers also offer more specified services. Dementia and Alzheimer's care give assistance to seniors suffering from these degenerative diseases; caregivers are specially trained to assist with the changes in lifestyle that accompany these diseases. Respite care allows family caregivers to take a break while providing seniors with the care they need. Finally, our transportation services ensure that seniors can get to appointments and favorite local businesses.
Comfort Keepers provides compassionate in-home care in Delphi, IN. To get more information or schedule an in-home consultation call us at (574) 626-4336.