Opening Up: Journaling with Seniors
by Ashley Keenan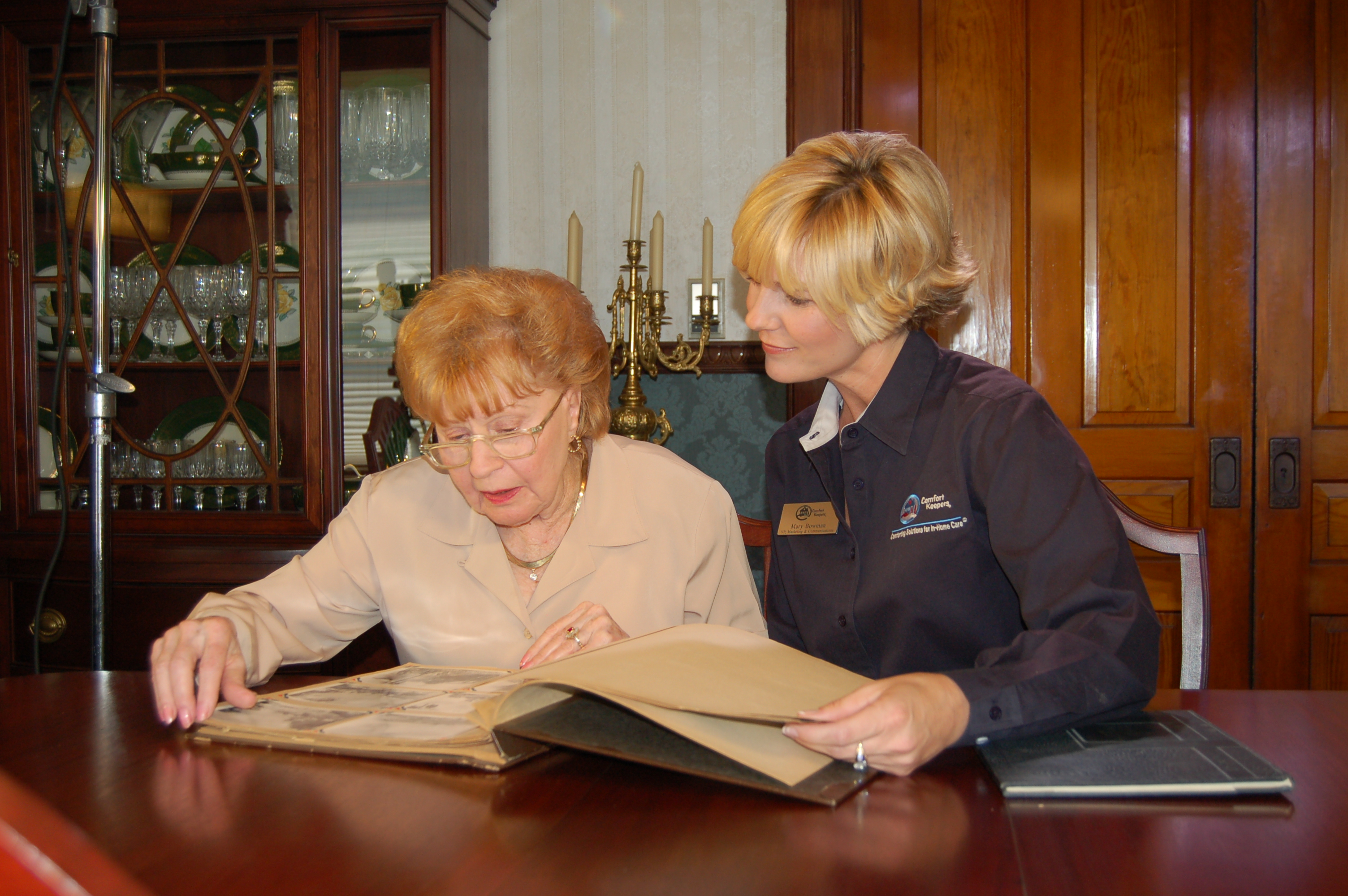 When I present the idea of journaling to our elderly clients the most common response I hear is, "I don't have anything really important to say," or "No one wants to read my old stories." Hearing statements like these makes my head spin…I want to shout, "Of course you have great stories to tell! Of course people want to read them!" However, I do my best to hold my tongue and try a different approach. I try to imagine how I would feel if I were in their shoes. If I were 89, lived through multiple wars, raised children, worked 50+ years, would I really want a young person to swoop in and tell me what to do? Probably not.
Instead I say, "There is no wrong way to journal. No one has to read this. Your stories don't have to be written with proper grammar or diction. You can share as much or as little as you like on the page." With a little hesitation my group seemed to open up more. One gentleman smiles and lifts a small stack of pictures out of his bag and begins flipping through them. The group looks over out of curiosity. Mr. J is holding a black and white photo of a scantily clad movie star from the 40s. She standing in between two gentlemen in uniform, their smiles stretched so big they look like rubber bands about to snap.
"Is that Susan Hayward?" the woman to his left asks. Mr. J straightens up in his chair. "It sure is! This is me and my buddy John. Only met her for a few minutes but she was a wonderful lady. And beautiful. The most beautiful woman in person." From then on the journaling workshop spins into an oral history of everyone in the room. Originally, I asked the group to bring a photo or memento that they could use as inspiration to write about. Twenty, thirty, forty minutes went by and everyone continued to pull objects and photos out of their bags. One woman told a story about eating rhinoceros meat while on Safari. Another shared a tale of meeting the Pope.
Eventually, we regrouped without a single word being written down. "So," I said to the group, "you were right; you really don't have any stories to tell, huh?" Then Mr. J smiled and said, "You know, I never think about these stories anymore. It feels good to remember them. I don't know if I'd do any good writing it down but it was really a pleasure to hear other people's stories and to talk about my past." Another woman spoke up, "You're right this was a good time. We should get together again and actually write some of this stuff down!"
Before I left the members of the group exchanged contact information and agreed to meet at the same time next week. I was so happy to share the experience with them. Working with seniors had allowed me to learn that everyone has a story to tell. Stories are a gateway to empathy, they allow us to connect with others, to be understanding and to feel understood. I'm grateful for every new story I hear because it deepens my appreciation for everyone around me.