Home Care Transportation Services in Greater Arlington Heights, IL
Home Care transportation services from Comfort Keepers in Arlington Heights, IL, and the surrounding areas allow them to preserve their independence.
Attending community activities, seeing friends, running errands, and visiting healthcare providers are all essential parts of many seniors' quality of life. We recognize the importance of retaining freedom, particularly for individuals who do not want or cannot drive. Transportation can also help elders keep in touch with family, friends, and other essential individuals. Call our office at (847) 241-4403 to learn more about our home care services and personalized companionship with transportation. We are glad to assist with senior transportation services at Comfort Keepers.
Where Can Comfort Keepers Take Seniors?
Comfort Keepers Home Care caregivers are trained to provide a more trustworthy and safe mode of transportation for seniors, ensuring that they have the independence and mobility they need to visit senior centers, grocery stores, and even medical transportation needs.
Comfort Keepers can offer elders with rides and transportation for daily activities such as:
Getting to and from doctors' visits and medical center follow-up appointments

Buying groceries and errand-running

Making new friends and participating in social activities

Visits to family members
Comfort Keepers is a senior transportation service that allows elders to go wherever they want without driving, traveling alone, or taking public transportation. Elders who want to go to a grandchild's baseball game or window shop at the mall will be accompanied by Comfort Keepers.
What Else Can We do to Help?
Our senior transportation services include private and non-emergency medical transportation, ensuring that seniors and loved ones are cared for without public transit. We attempt to provide multiple types of transportation to meet all of your home care needs.
Furthermore, our expert carers are well-trained and prepared to provide a clean home environment, fresh-cooked meals, personal help, and run errands and shopping for individuals who choose to remain at home. At home and throughout the city, we use Interactive Caregiving to keep elders engaged and involved.
---
Post-Hospital Transitional Services
Comfort Keepers provides transportation to clients who need to run errands or attend social activities but are unable to drive themselves home from a hospital or facility, as well as to scheduled follow-up appointments and treatment sessions.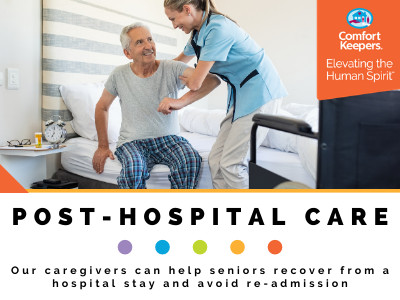 ---
Request a Free Consultation
Is it difficult for your loved one to get around and use public transit? We're here to assist you. To learn more about what our senior transportation services can do for you and your family, contact our in home care agency at (847) 241-4403 to schedule a free consultation. A caring expert will be happy to meet with you for a free consultation to discuss your specific needs, schedule, and budget.