Comfort Keepers of Gainesville and the 2018 Walk to End Alzheimer's
Nov 8, 2018 by Alan White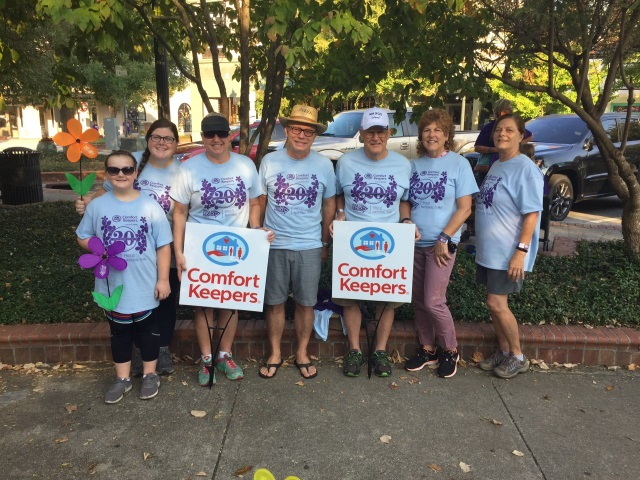 Comfort Keepers of Gainesville, GA is proud to have participated in the 2018 Walk to End Alzheimer's® organized by the Alzheimer's Association. This event took place on October 6 on Spring Street of the downtown square of Gainesville. On that day the community came together to show support for anyone who has a loved one affected by Alzheimer's and did their part raising awareness and funds for care and research.
The Time is Now to End Alzheimer's
Did you know that more than 5 million Americans are living with Alzheimer's disease? In fact, Alzheimer's is the sixth leading cause of death in the U.S., and one out of three seniors dies with some form of dementia. Out of the top ten causes of death in America, this disease is the only one which has no prevention, cure, or ways to slow or mitigate. This is why it is so important to spread awareness and support for the millions of people whose lives are affected today.
History of the Walk
The precursor to the Walk to End Alzheimer's was the Memory Walk® started in 1989 by nine Alzheimer's Association chapters who raised $149,000. By 1993, Memory Walk went national to 167 locations and raised 4.5 million dollars. Then by 2015, the movement had evolved into what we know it today and The Walk to End Alzheimer's raised over 75 million with more than 50,000 teams participating in over 600 walks!
Fundraising for the Walk
This year, the walk in Gainesville raised $70,419 dollars, which surpassed their goal of $45,000 by 156%. These funds were raised by 61 teams with 436 participants. Nationwide, Comfort Keepers raised over $78,000, surpassing their goal of $75,000.
Team leader of CK Gainesville, Alan White, is the owner/operator of four Comfort Keepers locations in Northeast Georgia. "All of us know or have worked with someone with Alzheimer's," said Alan. "Many of us have experiences with our own family members. We just want those families affected by Alzheimer's or dementia to know that they are not alone. Every year we come together to raise awareness is a year closer to finding the cure."
Many families came out to show their support and cheer on the walkers in Gainesville. Each registered walker was given a Promise Garden flower to write their personal message. Each flower has a color to represent a different connection:
Blue – for someone who has Alzheimer's or dementia
Purple – for someone who lost a loved one to the disease
Yellow – for caregivers of those with Alzheimer's
Orange – for anyone raising awareness to end the disease
To learn more about the Walk to End Alzheimer's and where you can find walks near you, visit the Alzheimer's Association page. You can find more about this year's fundraising teams on the Gainesville page for the 2018 walk. A big thank you to everyone who participated!