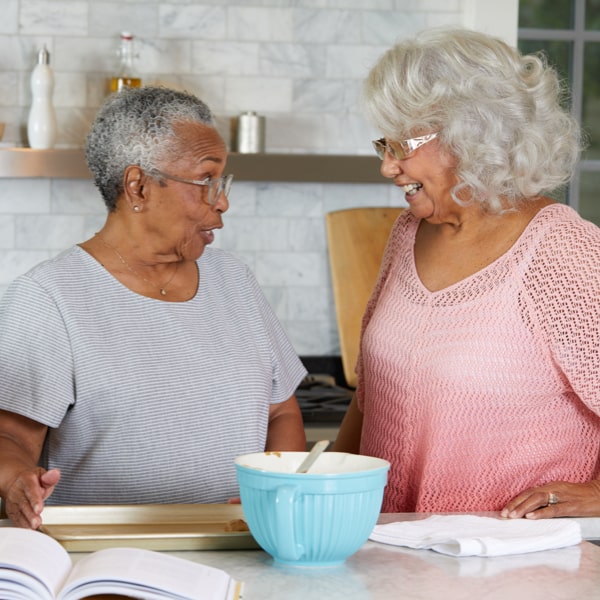 Senior Care with Advanced Home Care Techniques in Cumming, GA
Learn more about the customizable care plans and comprehensive senior care services available throughout Cumming, GA and surrounding areas
---
In Cumming, family is the number one priority. At Comfort Keepers of Cumming, we're a local agency staffed by folks who share that belief with all of our clients. If you're helping to care for the daily needs of an aging loved one, you don't have to do it alone! A caregiver from Comfort Keepers can offer immediate support and care to your loved one, easing the burden on family caregivers while providing peace of mind that your loved one is always in good hands. Senior care services can enable the whole family to enjoy their best possible quality of life.
Finding the right senior care can be nerve-wracking for family members, especially when you feel like you're being rubber-stamped into a particular care program. If your loved one has Alzheimer's, mobility challenges, or any other diagnoses, they deserve a care plan as unique as they are—not to be shuffled into a one-size-fits-all approach or a live-in facility. With Comfort Keepers, you'll have the opportunity to create a fully customized care plan for your loved one. Contact us to learn more at (770) 203-1480.
Staying independent at home
More and more seniors are choosing to age in place because staying at home helps them maintain independence, their current lifestyle, and their connections to family and friends. Aging in place can present a new set of challenges to seniors and their families, especially when navigating changes in health. Your loved one might face reduced mobility, a lack of transportation, or chronic health conditions that are hard to manage solo. Senior care services through Comfort Keepers can help your loved one remain at home, safely and comfortably, for longer.
We've helped thousands of families of all shapes and sizes create a senior care plan that's customized for their unique circumstances. That means the care schedule we create, the type of services we provide, and the budget for your care plan are all in your hands. We'll work with you to understand your loved one's needs and create a care plan that includes every activity your loved one needs help with and enjoys.
In northeast Georgia, there's no better resource for top quality senior care than Comfort Keepers of Cumming. We're a local agency that's proud to be staffed by folks who live in the community we serve! If you're helping to meet the needs of a loved one who lives in Buford, Flowery Branch, Suwanee, or Cumming, our team is ready to help. Call us today to learn more about our advanced home care services.