Individualized In Home Care & Senior Care Plans in Phenix City, AL and Surrounding Areas
In home care services for seniors in Phenix City, AL
Comfort Keepers is the leading provider of customized in home care services for seniors in Phenix City, the Bi-City area, and the surrounding communities of east Alabama. Since 2002, our independently owned and operated office has helped thousands of local seniors to get the support system they need to age gracefully at home without having to relocate when age-related hardships struck.
Services in Phenix City
At Comfort Keepers, we have conceptualized a proprietary approach to care for the elderly – Interactive Caregiving. We make planned efforts to ensure the highest quality of life possible for each client. Our dedicated, trained care aides – the special people we call Comfort Keepers – use everyday opportunities to keep seniors active, stimulated, and engaged, boosting happiness and independence along the way. Whether your loved one likes to feed the ducks at Idle Hour Park or is up for a walk along the banks of Chattahoochee River, we are here to brighten their day. And Interactive Caregiving, we believe, is that integral component that makes a positive difference in their lives.
Some of our in home care services in your area are:
In-Home Care / Senior Care
24 Hour Home Care
Alzheimer's Disease and Dementia Care
Assisted Living in the Home
End-of-Life Care
Fall Prevention
Respite Care
Transitioning Home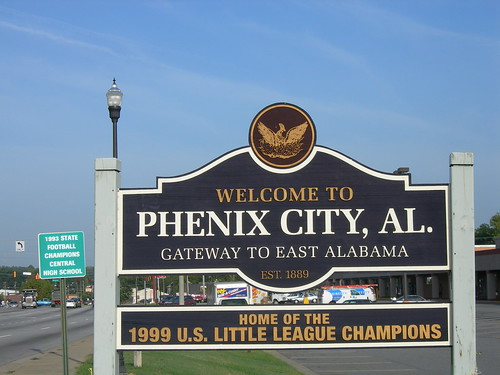 Community Involvement – We Like to Show We Care
In Phenix City, AL, we strive to be one of the pillars of the community and invest ourselves in collaborating with many institutions and organizations.
Our agency works with healthcare professionals in local hospitals, hospice facilities, and senior living facilities in the area. These are just some of the top-notch establishments we have long-lasting partnerships with.
The truth is we wholeheartedly love our community and we enjoy being a part of it. Comfort Keepers employees can often be seen around town, whether it is supporting the local high school football team or catching a show at the Phenix City Amphitheater.
For our locally owned and operated in home care agency, supporting the community and community-organized events means supporting the youth of our community too. That is why we chose to sponsor a number of little league sports teams and several local schools, including Central High School, Smith Station High School, and Glenwood.
By communicating with a wide array of local organizations associated with senior care, Comfort Keepers strives to provide a safer and healthier environment for our clients, one they can thrive in.
Contact us online or call our local office to learn more about how your senior parent or relative can benefit from our in home care services and schedule your free in-person meeting with Comfort Keepers today.