In-Home Health Care & The Journey to Recovery
Find in-home health care support for your loved one for a safe and comfortable transition home.
Making the Transition from Hospital to Home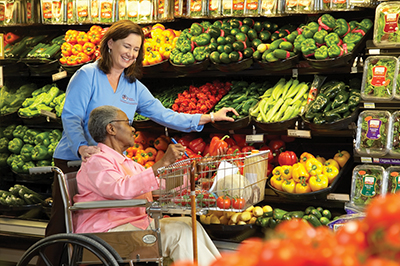 In recent years, there has been a strong focus on the high rates of hospital readmissions. According to the Centers for Medicare and Medicaid Services, nearly 20 percent of patients return to the hospital within 30 days of being released from a hospital after surgery or illness. While hospitals provide information on resources to help transition home, it is often up to the patient to secure the care they need to ensure a full and swift recovery. Transitioning in-home health care services from Comfort Keepers® can help your loved one take the time he or she needs to recover and help reduce the risk of being readmitted to the hospital.
What Is Transitioning Care?
After a stay in a hospital or a rehabilitation facility, patients often need assistance to successfully adjust from being cared for around the clock to living more independently at home. Studies suggest that two of the most common reasons that patients fail to recover as quickly as expected, or even end up back at the hospital, are because they fail to fully understand discharge instructions or do not follow them correctly. Unfortunately, family members may not have the experience or time available to provide adequate transitioning in-home health care.
How Can Comfort Keepers Help?
As family members quickly discover, taking care of a loved one who is recovering from surgery or a serious illness can require a lot physically and emotionally. Comfort Keepers provides a range of services designed to help your loved one transition from the hospital to home:
Assist with transportation to and from the hospital or medical providers
Help your loved one follows the prescribed discharge plan, including medication compliance and follow-up appointments
Manage daily personal care needs and household tasks like laundry and meal preparation
Coordinate with your loved one's medical team
If your loved one has specific medical needs related to congestive heart failure, heart attack, or pneumonia, we can adapt our services to address these concerns. By trusting Comfort Keepers of Ocala with your loved one's transition from the hospital to home, you get the peace of mind that comes from knowing your loved one has an experienced companion to help in his or her recovery.
Whether you need transitioning in-home health care services for just a few hours a week or 24 hours a day, our caregivers, or Comfort Keepers®, are here to help. Call us today at (352) 221-9582 or schedule a free in-home consultation