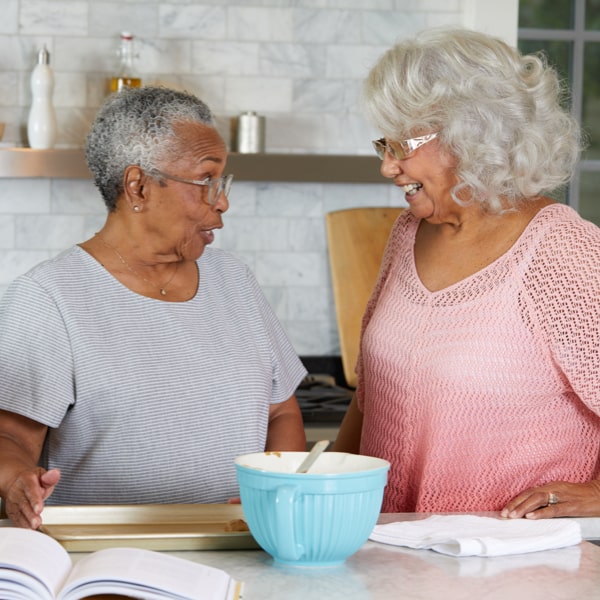 Comfort Keepers Senior Care Services in Ocala, FL
Learn more about the senior care services offered by Comfort Keepers
The wide range of service offerings at Comfort Keepers allows us to stand out from other senior care agencies. If your senior loved one chooses to work with us to make their life at home easier, safer, and more enjoyable, they can opt for the following services:f
In-Home Care
Our in-home senior care program consists of personal care and companionship care tasks. Some examples of these tasks include bathing, grooming, toileting, grocery shopping, meal preparation, laundry, and medication reminders.
Interactive Caregiving
Walks around the neighborhood, cooking classes, crossword puzzles, and community events are Interactive Caregiving activities that our caregivers often promote. These activities are designed to improve a senior's physical, mental, social, and emotional well-being.
Respite Care
Respite care gives primary caregivers the opportunity to take a break from caregiving so that they can visit the doctor, go on vacation, have lunch with a friend, or do anything else that gives them the chance to focus on their own needs.
Alzheimer's Disease and Dementia Care
Alzheimer's disease and dementia are progressive disorders that can significantly affect a senior's cognitive function. Our caregivers know how to care for seniors with these conditions and help them live a higher quality of life despite their challenges.
Transitioning Home
In order to avoid hospital readmission and recover safely and efficiently, many seniors who have just returned home from a hospital stay opt for our transitioning home care services.
End of Life Care
Thanks to the end of life care, seniors who are nearing the end of their life can spend their last moments creating precious memories with their loved ones rather than worrying about going grocery shopping, cleaning their home, or taking senior care out of other households tasks.
Lyft
Comfort Keepers is pleased to have recently partnered with Lyft in order to provide seniors with the dependable transportation they need to become more independent and live an active lifestyle.
Grandpad
Grandpad makes it easy for seniors to connect to the digital world. It's a senior-friendly tablet that's pre-loaded with essential apps and allows older adults to communicate with family, friends, and Comfort Keepers.
Make an appointment for a complimentary home care consultation today
To learn more about Comfort Keepers of Ocala, FL, and our home care services, contact one of our professional caregivers for a free, no-obligation consultation. During this session, we will learn about your loved ones' needs and conditions, as well as their interests so we can get a better understanding of what type of services your loved one may need from us. This will allow us to tailor a care plan to your loved ones individual requirements, and regular daily routine so they never skip a beat. To get started, please contact our caregivers via Phone or fill out our Home Care Survey to initiate the first steps in receiving care from us! We cant wait to speak with you!
---