Senior Home Care in Broomfield, CO
TO CONTACT US: CALL (303) 457-4200 OR INQUIRE BELOW
Things That You Should Know About In-Home Care
What exactly is senior home care?
Senior home care enables senior citizens to get certain kinds of care in the comfort of their own homes instead of going into expensive, impersonal nursing facilities or other such facilties. The kind of care given depends on the requirements of each senior and their family. In-home care provides comfort, helps with ADA, and allows them to stay at home longer. Some examples of these services are housekeeping, meal preparation, companionship, laundry, and transportation for medical appointments.
How does senior home care work?
At Comfort Keepers® a primary care coordinator is assigned to each senior and family. The coordinator works with the family and senior to identify needs and wants and is responsible for ensuring that a customized care plan is developed that is tailored to the seniors' personal needs. Additionally, the care coordinator helps the senior and family identify personality preferences and characteristics for caregivers so that he/she can assign the most appropriate caregiver to work with the family and senior.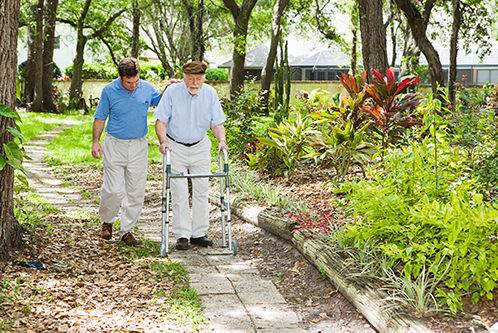 Caregivers can come to the home every day to do a particular task as required by the senior or only on the days that assistance is needed. This may include doing light housework or running errands. Our caregivers don't just work with seniors in their homes, they also assist seniors in assisted living facilities who need a little extra help living independently.
Why should I use senior home care?
The reason to use these senior care services are many, including the simple fact that seniors can become incapacitated at any time due to age or illness and a caregiver is ready to step in at a moment's notice and assist. Without immediate assistance, unexpected incapacitation may cause a senior to require nursing care or intermediate medical services with long-lasting physical and financial effects. By having a senior companion visit your elderly loved one on a regular basis, you can help ensure that your loved one receives the services and assistance that they need. Further, having a regular senior companion and caregiver keeps you informed about your senior's condition and health so that, if needed, modifications to care plans can be made in a timely manner.
What are some of the benefits of using senior home care?
There are many. For one, it is much cheaper compared to paying for nursing care and other intermediate medical services. By having a personal care aide come to the home, the senior does not have to worry about grocery shopping, cooking, or remembering to take medication on a daily basis. In fact, depending on need, our caregivers can even do some of the daily living activities like cooking, shopping, or errands.
Another benefit of any good senior home care agency is that it helps improve the relationship between the (family or private) caregiver and the family members. Many times, the elderly member of the family members does not get along with their family members due to age or differences in culture. When they come in to help out, the caregiver and family members get closer and develop a stronger bond. This can only mean better days ahead for everyone.
How do I find reliable senior home care?
You just did! Call our office 24 hours a day and request a free assessment to determine if in-home care is right for you. A client care coordinator will listen to your needs and assess what, if any, services are appropriate. There is no obligation, and you will come away better prepared to help your senior age in place comfortably.
Not only do we provide top-notch in-home senior care near you in Broomfield, we also provide services in Westminster, Thornton, Arvada, Longmont, Firestone, and the surrounding communities in North Denver and the Front Range.