Elder Home Care Services in Walnut Creek, CA: Transitioning Home
Elder home care services can ease your loved one's transition from the hospital or rehabilitation facility to home, which can lead to a better, more comfortable recovery.
Comfort Keepers of Walnut Creek, CA is proud to offer elder home care services that makes the transition from the hospital or skilled nursing rehabilitation center, to home, safer and more comfortable. We know that having the proper care and support in place following a serious hospitalization or surgery is crucial to prevent re-admissions.
Comfort Keepers of Walnut Creek, CA is experienced with working side by side with other providers to ensure that therapy directions, nutritional guidelines, and medication instructions are being followed. A significant number of our clients use Comfort Keepers elder home care services to help quicken the recovery process, and to ensure that they will be fully supported after being sent home from the hospital, or nursing and rehab facility.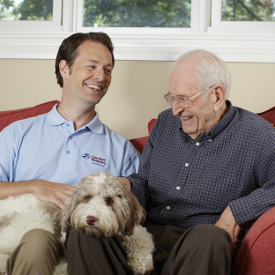 What Is Transitioning Care?
This specialized form of care at home helps those that are transitioning from one setting of aide to the next. The goal is to ease your loved one into the change, and to support family members by helping them manage the doctor's continued prescribed regimen. These services help to ensure a recovery that is not only comfortable, but timely. They also bring peace of mind, knowing an expert is there to help.
How Comfort Keepers Can Help with Elder Home Care Services
In addition to the customary homemaker/companion and personal elder home care services Comfort Keepers provides, we are able to adapt services to accommodate clients with specific medical needs such as
congestive heart failure.
myocardial infarction (heart attack).
pneumonia.
Let Comfort Keepers help guide you safely through the transition process. It offers clients peace of mind and can help with the recovery once your loved one returns home. We are available 24 hours a day, seven days a week to help your family member recover. Contact us today to learn more about these specialized elder home care services.