Dementia Care and Alzheimer's Care in Walnut Creek, CA
You are not alone- Comfort Keepers of Walnut Creek, CA can help care for your loved one at home, giving you the support you need through dementia care and Alzheimer's care
At Comfort Keepers of Walnut Creek, CA we understand the difficulties many families face when caring for a senior loved one with Alzheimer's disease or dementia. We understand and recognize that not everyone with these diseases act the same or show the same symptoms as well as the degree of severity of these diseases varies. With this is mind, our specially trained caregivers are able to help your loved one manage the symptoms of these diseases from the comfort of their home.
In addition to the special training we provide our caregivers, we provide the families we work with, as well as our caregivers, free one-on-one consultations with Laura Wayman, dementia expert and gerontologist. Laura has extensive experience in teaching familial caregivers and professional caregivers how to adjust their own behavior to better help the person who has dementia. She is author of best-selling book, "A Loving Approach to Dementia Care." If you or your loved one suffers from one of these diseases, contact us to set up a free, in-home consultation with Laura and Comfort Keepers.
There are many of causes of dementia: some are short term, such as a urinary tract infection, or a reaction to medication, while others are progressive illnesses, such as Alzheimer's disease, Lewy Body, Parkinson's disease, Picks Disease and Huntington's disease. We have been providing dementia and Alzheimer's care in Walnut Creek, Orinda, Moraga, Lafayette, Pleasant Hill, Concord, Martinez and surrounding towns in the East Bay since 2003. If you are a caregiver for someone with dementia, call us today to speak with a Certified Senior Advisor to learn more about our Alzheimer's care and dementia care.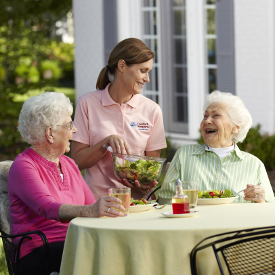 Understanding Alzheimer's Care and Dementia Care
As the saying goes, "If you've met one person with dementia, well, you've met one person with dementia." At Comfort Keepers of Walnut Creek, CA, we understand just how different each senior we provide care for is. Through our one on one in home care with clients, we are able to personalize our caregiving services for every client, ensuring their comfort and safety in their home. Our dedicated team of caregivers are trained on memory impairment and have worked with Laura Wayman, dementia expert. Dementia and Alzheimer's services focus on ease of life with the memory impairment as well as traditional home care duties customized to meet your loved one's needs.
How Comfort Keepers Can Help
In addition to being trained in Alzheimer's care and dementia care, our caregivers are also trained to implement Comfort Keepers' unique Interactive Caregiving™ system. With Interactive Caregiving, the Alzheimer's disease and dementia care provider will get to know the senior on a personal level.  The ability to provide one on one, personal care allows our caregivers to truly focus on providing a calming, yet interactive experience.  Caregivers spend time learning about the likes, dislikes and even past events in the senior's life to get a better understanding of their life so they can provide the best care possible.
While developing a relationship with the senior, our Comfort Keepers caregivers can plan dementia friendly activities, as well as provide important activities of daily living, such as meal preparation, help with walking, medication reminders and assistance with taking showers or toileting. Our caregivers have experience in helping seniors who are just beginning to show signs of dementia all the way up to seniors who need constant, 24 hour care. If your loved one is experiencing the signs and symptoms of dementia and would like to learn more about our customized care plans, contact us today.