In Home Care at Comfort Keepers of Dublin, CA
Comfort Keepers offers a wide-range of in home care for your senior loved one in the Dublin, CA area.
It's natural for family members of senior citizens to be worried about issues like transportation, mobility, household chores, etc. To fight this anxiety, it's important for you to realize how much help is available to you. Comfort Keepers in home care services will provide your senior with respect, kindness, and individual attention.
In fact, we are available for in-home consultations to develop a plan to best meet your loved-one's needs. We firmly believe that the best care is highly customized.
Much of the time, the citizens we serve are in need of gentle assistance and an occasional helping hand. What our caregivers contribute in these situations is companionship. This can involve a nice dinner on the patio, watching some Netflix, talking over coffee, and generally making your loved one feel appreciated.
Services also include transportation, respite care, and assistance with mobility and the ability to meet household responsibilities, and to maintain good health.
The in-home care provided by our caregivers can be as detailed and extensive as needed. We can help your loved one with some of their most basic needs. That is why we focus on Interactive Care, working closely with family members to define and maintain the proper level of care.
The difference—or at least one of the differences—that Comfort Keepers makes is the in-home difference. This is what allows for one-on-one companionship that forms the right relationship between caregiver and patient. If you don't want your loved one to be in a facility, rest assured that great care is still available.
This lets your senior loved one enjoy the comforts and familiarity of home. That quality of life is absolutely crucial, in the Dublin, CA area as it is anywhere on Earth. Being at home keeps self-esteem high and maintains a sense that life is going on smoothly.
So, please consider contacting Comfort Keepers in home care for a consultation on how we can provide your senior citizen with the best in-home care in the Dublin area.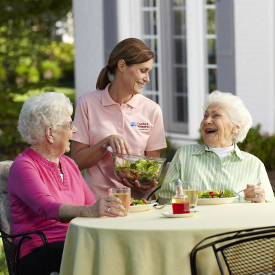 Our In Home Care Services
If you would like to know more about our in home care services you can schedule a free in-home consultation today! Our experts will meet with you and your loved one so we can get to know your situation to create a custom plan for care. You can contact us anytime at (925) 344-4159!