In Home Care at Comfort Keepers in Castro Valley, CA
Comfort Keepers provides a variety of in home care services for your senior loved one.
It's common for family members of senior citizens worry about issues like transportation, mobility, household chores, etc. available to their loved one. That's why it's essential to be familiar with the range of in home care available to you—right here in the Castro Valley area. Comfort Keepers will help your senior citizen's quality of life by providing the necessary level of care. Our professional caregivers treat your senior with kindness and the utmost respect.
In fact, we begin the process with in-home consultations to create a plan to service your loved one's needs. We never proceed with a one size fits all service.
A lot of the time, the people we care for are in need of day-to-day assistance, a ready helping hand, and most of all, companionship. That's where our caregivers come in. They can provide great company in the form of a dinner on the patio, watching some movies, listening to stories about the grandchildren, and generally making your loved ones feel they're not alone.
However, our services also include anything needed by your loved one, such as transportation, respite care, and assistance with mobility and getting around, and in generally maintaining a high quality of life.
The assistance provided by our caregivers can be as basic and far-reaching as necessary. We like to collaborate with family members to continually communicate on what levels of care are most appropriate at a particular time.
As you can see, the comfort and assistance we provide is as customized as you'd expect from in-home care. Since your caregiver is in the home with your loved one for an extended time, he/she gets to know your loved one in great detail. This results in the best care. It's the best of both worlds, having the appropriate attention for your senior while allowing him or her to live at home.
We've found that living at home is great for our client's emotional life. Being at home makes all the difference for many people, both in emotional and physical health.
Please consider contacting Comfort Keepers In Home Care for information on how we can give your senior citizen with the best in-home care in the Castro Valley region.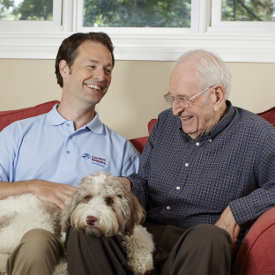 More About Our In Home Care
if our in home care services will benifit your loved one we are here to help you take the next steps in receiving that care. Call us today and we will schedule a free in-home consultation where our experts will come and create a custom plan for care based on your loved one's needs. Contact us anytime at (925) 344-4159!