In-Home Caregivers in Greater Tracy, CA
Our in-home caregivers in Tracy, Stockton, and the surrounding areas of California, are empathetic, caring, and always go above and above the call of service.
Our committed in-home caregivers are thoroughly chosen and trained to assist seniors in preserving their freedom, community connections, and well-being across the country. We help seniors live better, safer, and more enjoyable lives, from appointments to preparing healthy foods.
Our expert in-home caregivers are not only highly skilled and trained in infection control, but they are also ready to provide a clean living environment. They can prepare fresh-cooked meals, personal support, aid with errands, and shop for your loved one. We use Interactive Caregiving to keep seniors and other adults who require assistance at home engaged and involved, preventing social isolation.
We create individualized senior care plans that incorporate physical safety and well-being, emotional health, and socialization, which our in-home caregivers carry out. Our mission is to assist our clients in achieving the highest possible quality of life while remaining independent at home.
Our Caregivers:
Undergo a thorough interview process, including a national verification process and a professional and personal background check.

Tested for empathy

Trained to provide the highest quality of life care for seniors and other persons who require home care.

Client-compatibility matched

Bonded, insured, and workers' compensation covered

Applicants must undergo a thorough interview procedure that includes national background checks and professional reference checks.

To keep seniors interested and active, caregivers focus on Interactive Caregiving, which means they do things with them rather than for them.
---
What is the Significance of Interactive Caregiving?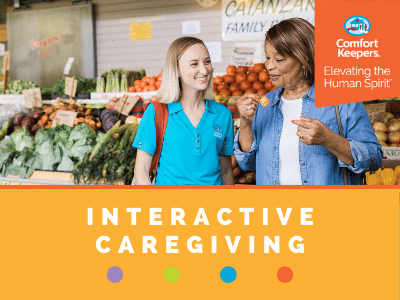 Our Interactive Caregiving approach places a high value on caring for the whole person. It's a comprehensive approach that considers the mind, body, soul, and overall well-being of the individual. Instead of only doing things for your loved ones, we make the most of every opportunity to do things with them. This idea has been shown to increase a seniors' sense of purpose and control and turn mundane jobs into memorable experiences. This allows caregivers and clients to form enduring friendships and gives them a sense of purpose.
We use technology to assist seniors in staying in touch with family and appreciating memories. Furthermore, Interactive Caregiving implies that our senior care coordinators assess your senior's health and keep family members informed at all times.
---
Contact Us Today
Don't hesitate to contact us today at (209) 208-4592 to learn more about how Comfort Keepers in-home caregivers help seniors and their families in Tracy, CA, and the surrounding areas.