Home Care for Seniors & the Journey to Recovery in Pleasanton, CA
We can ease your loved one's transition from the hospital or rehabilitation facility to home, which can lead to a better, more comfortable recovery through our in home care for seniors in Pleasanton, CA
After a hospital or rehab stay, it is very important that your senior is given the correct amount of care to avoid any trips back! Comfort Keepers of Pleasanton, CA can ease the emotional and physical demands of caring for a loved one who is in this type of transition. Our in home care for seniors transitioning back home or into an assisted living facility can lead to a quicker recovery and make the process of coming home more comfortable. Each of our caregivers has the ability to take directions and also train with the discharge facility on detailed care instructions and what is best for the client after they get home.
What Is Transitioning Care?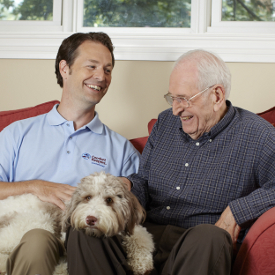 This specialized form of care is made to help those that are transitioning from one setting of an aide to the next. The goal is to ease your loved one into the change and to support family members by helping them to manage the doctor's continued prescribed regimen. These services help to ensure a recovery that is not only comfortable but timely and stress-free.
How Comfort Keepers Can Help with Senior Care Services
In addition to the customary homemaker/companion and personal in home care for seniors, Comfort Keepers provides, we are able to adapt services to accommodate clients with specific medical needs such as
congestive heart failure.
myocardial infarction (heart attack).
pneumonia.
Let Comfort Keepers help guide you safely through the transition process. It offers clients peace of mind and can help with the recovery once your loved one returns home. We are available 24 hours a day, seven days a week to help your family member recover.