Personal Home Care Services in La Mirada, CA, and the Surrounding Areas
Personal home care with dignity for seniors in La Mirada, Seal Beach, Norwalk, and neighboring areas.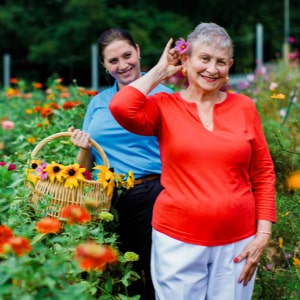 For many aging adults who continue to live independently, even the most basic tasks can present a challenge. Due to various age-related difficulties, even something as simple as moving throughout the home or making breakfast can be hard to complete.
Comfort Keepers is the leading provider of customized in-home care, offering an array of services designed to promote wellness and independence for seniors who like living on their own terms. One of those services is providing dignified help with personal hygiene.
What Is Personal Home Care?
In the caregiving industry, personal home care is a broad term used to categorize a plethora of services aimed at assisting with personal hygiene needs, as well as certain activities of daily living. Depending on the needs of each client, services can range from mere stand-by assistance to full-on care.
Our trained caregivers can help with anything from basic tasks like bathing, grooming, and dressing to toileting, incontinence, transferring and positioning. In addition to this, we can manage your loved one's household and perform light housekeeping, meal prep, grocery shopping, and more. Comfort Keepers also provide specialized care for older adults diagnosed with cognitive issues, fall risk assessments, around-the-clock monitoring, and more.
When working with Comfort Keepers, you can expect us to deliver a personal home care plan fully tailored to your loved one's requirements. We will find a way to address all their needs including physical safety & wellbeing, emotional health, and socialization. To keep your parent engaged and happy, our loving caregivers can take the drive and accompany them to family visits, outings in nature, social events, and more.
Our mission is to ensure the best quality of life for all our clients and one small segment of that is helping clients look and feel their best, regardless of age or acuity.
If your loved one has physical limitations that prevent them from performing even the basic hygiene tasks without difficulty, our personal home care experts can help with:
Getting in and out of the bathtub or shower
Getting dressed & putting on shoes and accessories
Teeth brushing or cleaning dentures
Grooming, styling, or brushing hair
Applying makeup for mom
Giving dad a clean shave
And more
When seniors are unable to bathe properly or often enough, they put themselves at risk of developing various conditions such as rashes, infections, and other medical problems. Not to mention unpleasant odors that go hand in hand with poor hygiene. For this reason, personal home care is not a commodity – it is essential to ensuring your loved one is as healthy as possible.
Contact Comfort Keepers Today
Reach out to our office today at (714) 975-8446 to learn more about our services and schedule your free consultation with Comfort Keepers where we can discuss your needs.