Compassionate In Home Care at Comfort Keepers in La Mirada, CA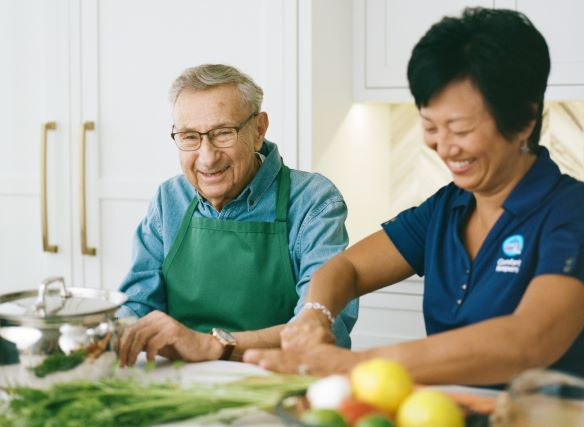 Comfort Keeper is the number one provider of in in home care services, offering personalized care plans to meet the specific needs of your loved one. 
A lot of seniors wish to continue living at home and make it their top priority as they reach their later years. But the aging process can be difficult for seniors over time and they inevitably end up needing some form of assistance. At Comfort Keepers, we provide in home care that can ensure that your senior loved one keeps living comfortably and independently at home. 
Our Staff
We employ an Interactive Caregiving approach to in home care that transforms regular caregiving into meaningful interactions based on genuine relationships. Our caregivers interact with our senior clients and enrich their physical, mental, social, and emotional lives. 
From helping around the house with chores or preparing a meal, our in-home caregivers are there to lend you a helping hand. 
How Comfort Keepers Helps
At Comfort Keepers, we provide a wide array of home care services for seniors, including personal care, companionship, transportation assistance, incontinence care, and more. We make it a point to build genuine relationships with the senior clients that we serve and always strive to maintain a high level of personal dignity and respect for our members at all times. 
In-Home Companionship and Senior Care Services
At Comfort Keepers, we provide personal senior care assistance to our clients so that they can feel their best at home. With our in home care, we can assist your senior loved one around the home, and particularly in the bathroom to ensure that they maintain their personal hygiene. 
We also provide mobility assistance to our clients and help reduce the risk of falling and the injuries that come with that. This also means helping them around the house with positioning and transferring from beds, chairs, wheelchairs, and so on. 
Our caregivers also help with nutritional care and meal preparation by ensuring that they get the proper nutrition they need to continue living healthy lives. Whether your senior loved one has a special diet or just wants companionship in the kitchen, our caregivers can be there to provide the assistance they need. Our caregivers also join their senior clients for mealtime and help keep records of nutritional intake. 
We are here for you
To learn more about our full list of services provided, feel free to contact us online or call (714) 975-8446 anytime!