Technology: Taking Caregiving to the Next Level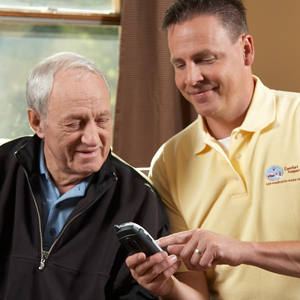 In simple terms, one does not usually equate modern technology with seniors. Smartphones, computers or other trendy electronic gadgets can be navigated by younger generations in their sleep but may be a bit more complicated or of no interest to older generations. However, modern technology as it applies to seniors, especially those living home alone, is more high-tech than you may think.
The goal for many seniors is to live independently in their own homes for as long as possible. However, for some, doing so can be challenging due to physical or mental limitations. Sometimes seniors need help that is not readily available in human form. This is where technology enters the senior world, offering a plethora of aids that assist seniors with daily living.
Comfort Keepers®, a leader in the home health care industry, offers SafetyChoice® products designed with the independent senior in mind. Pill boxes are available that beep reminder messages at appropriate times and even dispense proper medication dosages. Mats with electronic sensors can be placed at the sides of beds and send electronic alerts if seniors fall out of bed in the middle of the night. Tabletop consoles, necklaces and other pendants with panic buttons to alert help are readily available for seniors to use in other times of need. Portable GPS systems are popular to help keep track of those who often wander or get lost.
But, technology for seniors does not stop there. The number of seniors 65 and older is projected to double worldwide over the next few decades. During this time, 80 million baby boomers are expected to enter their golden years in the United States. Japan is preparing for the fact that 1 in every 4 of their citizens will be over the age of 65 within the next few years. While governments are cringing and crunching Medicare and other health-related aid dollars, technology companies across the globe are rising to the challenge of helping seniors live independent lives in their own homes.
Japan, notably a leader in the technological world, is developing legions of nurse robots to assist in senior care. Other technology in the works includes robotic bathtubs designed to help seniors bathe, GPS chips to monitor physical whereabouts, and inflatable arm sleeves to facilitate muscle strength when lifting. Full-body robotic suits with pressure points that sense when a senior is lifting something heavy and fill weak spots with air to support muscles while lifting are purportedly being developed.
As the years' progress, the world is bound to see technology many of us have never imagined designed to assist aging seniors. For that, we should be thankful. No matter our age, every bit of help enhances our quality of life. While robotics and computerized devices can never replace basic human touch and companionship, this type of technology can facilitate our goals of healthy, independent living in our own homes well into our golden years.
References
Leland, John (2009). New York Times.
Comfort Keepers. SafetyChoice® products.