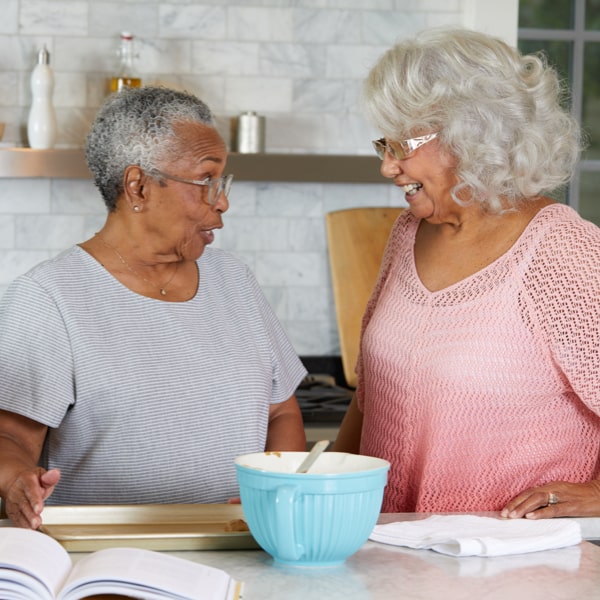 Senior Companion Care Services in Virginia Beach, VA
Now families can have peace of mind with the option of services right in their homes
At Comfort Keepers of Virginia Beach, VA we're here to better the lives of seniors and their families with our wide selection of senior companion care services. Loved ones can stay where they are most comfortable and continue to make more happy memories with the help of our caregivers. We cover a number of essential tasks for daily living in addition to performing more specialized forms of care.
All of our senior companion care services can be combined into a personalized plan, so your loved one is getting the right level of aide in the areas they need it. Seniors are always encouraged to continue doing what they can, as well as to join in on certain tasks around the house, healthy exercises, or a fun activity. This is because our caregivers are not only there to provide assistance, they are also there to be a daily companion and close friend.
Give us a call at (757) 204-1108 to learn more!
Keeping Your Loved Ones In Control With Senior Care Services
When it comes to your loved ones care, it is important that they are as involved as they can be when it comes to making decisions. See how we help they stay in control of their independence while still receiving a helping hand.
Our Quality Guarantee
To ensure your loved one's safety and wellbeing, we apply our Interactive Caregiving philosophy to all of our options as well as implement an extensive hiring process. Through our unique philosophy, your loved one can practice healthy habits to better their bodies, minds, and spirits. They can also fight common medical issues in seniors such as high blood pressure, depression, hypertension, heart attacks, and strokes.
When it comes to our caregivers, no one joins our team without submitting yearly drug screenings and background checks. They must also take part in our continuing education program to maintain and add to their certifications. We would not hire anyone that we wouldn't let senior companion care for our own family.
Contact Us To Learn More
Whether you're just taking your first steps or are well down the road in searching for the senior care services for your loved one needs, contact our office online or give us a call, (757) 204-1108. We are available 24/7 to answer your questions and get your family the resources they require.