Home Care Licensing
License Number:
009322
In Home Care from Comfort Keepers® of Tyler, TX
Senior care for Tyler, TX and the surrounding areas.
Comfort Keepers of Tyler, TX is a leading provider of in home care and senior care services. Our expert caregivers provide customized care plans that may include personal care and companionship-homemaker services. We help seniors and other adults live an independent, quality life. Our senior care services can range from end of life care to respite care just a few hours a week. We pride ourselves on helping seniors live their golden years in the comfort of their own homes.
Comfort Keepers provides in-home care through trained caregivers that you can trust. From the very beginning we have maintained a commitment to providing compassionate, quality care for seniors. Our caregivers are trained to treat each client with dignity, respect and compassion. Quality of care is at the forefront of our business!
Family members who are considering senior care services for their loved ones in Tyler, TX often consider the benefits of working with Comfort Keepers. Since a caregiver can come directly to a client's house and assist with daily responsibilities, while focusing on companionship, this is often the best option for caring for loved ones.
Why Comfort Keepers?
• Professional Caregivers: Our caregivers are licensed, insured, and bonded. They have undergone extensive training in providing personal care and companionship-homemaker services that will meet your specific needs.
• Compassionate Care: We understand that making the decision to seek help for a loved one is not easy. Our caregivers are gentle, kind, and understanding individuals who will provide your loved one with the best possible care.
• Customized Care Plans: We offer customized care plans that can be tailored to meet your individual needs and preferences. Whether you need assistance with personal care or just someone to keep you company, we can create a plan that works for you.
• Flexible Hours: At Comfort Keepers of Tyler, we understand that life can be hectic and that sometimes family members need a break. That's why we offer customized services and flexible scheduling to make things a little easier. We're here to help, so please let us know if there's anything we can do. Thank you for considering us!
• Peace of mind: Family members can rest easy knowing their loved ones are being taken care of by experts in senior care
A caregiver from Comfort Keepers offers basic home care to aging seniors like bathing, dressing, meal preparation, Interactive Caregiving, transportation services, and companionship. We realize that this assistance in the comfort of a client's home is the best way to ensure a high quality of life. This is why so many family members choose to work with a caregiver from Comfort Keepers of Tyler, as loved ones will remain in a familiar environment, yet receive the care they need.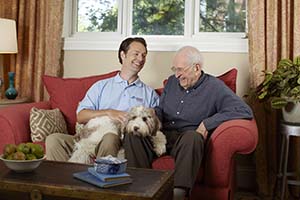 Part of the in home care that Comfort Keepers provides to clients is Interactive Caregiving. Interactive Caregiving offers a broad range of services that focuses on keeping a client engaged mentally, physically, emotionally, and socially. Caregivers focus on keeping a client active in order to make sure they get the most out of life. Family members who see their loved ones with a smile on their face when they are with a caregiver from Comfort Keepers realize how beneficial Interactive Caregiving really is.
One of the most significant home care services that a caregiver from Comfort Keepers offers is companionship. Caregivers understand that aging seniors need companionship just as much as anyone else. This is why caregivers enjoy socializing with clients and keeping them active. Comfort Keepers focuses on spending high quality time together by playing board games, discussing important topics, and taking part in hobbies that clients enjoy. Comfort Keepers realizes that clients who are engaged throughout the day experience a higher quality of life.
If you are a caregiver for a loved one, you know that it can be difficult to balance work, home life, and caregiving duties. It is important to take time for yourself, and In-Home Senior Care Tyler can help. Respite care can provide relief from your daily responsibilities so that you can take a break and recharge. Comfort Keepers Tyler also provides in-home senior care services that can keep your loved ones safe and comfortable in their own homes.
Contact us today to learn more or schedule an in home care consultation. If you prefer you can call us at (903) 509-4424.