Comfort Keepers Home Care Agency Wins 2019 Top Workplace Award From The Pittsburgh Post-Gazette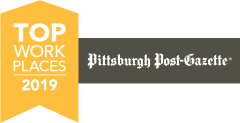 Find out more on compassionate home care available in Monroeville PA
Our home care agency understands the difficulties that come with a person's golden years, and we know that for many it can be a challenge to still maintain their independence and live on their own. Many things that were once easy to do become more and more difficult, which can leave a person frustrated or discouraged. While family and friends can help with some of this, it can be a challenge to provide the around the clock care or even the occasional help that might be required.
That is why we are dedicated to providing people in the Pittsburgh area with the highest quality in senior in home care. We have made it our mission to provide the kind of care that you would provide for those you love.
Our compassionate staff of caregivers are highly trained and are here for you or your loved one, whether you need 24-hour care or only a few hours of assistance a week. Each of our care providers plays a necessary role in the safety, health, and happiness of those in our care.
Because we are so committed to the work we do, we are pleased to announce that our agency was honored with the Top Workplace Award in the August 2019 edition of the Pittsburgh Post-Gazette. This award, which is based entirely on our care providers' feedback, is a great honor to us. We could not provide the high quality senior home care that we do without the dedication our care agents show to their clients. This why a fundamental part of our business plan is to ensure we have both happy clients AND happy care provides.
"We are so blessed to have such wonderful home aides and office staff. Their hard work, tenacity and commitment to our clients deserves to be recognized and applauded," Mary Jean Donohue, co-owner of Comfort Keepers of Monroeville, PA said. "Our employees demonstrate that their heart is truly in their work by the respect and dignity they give to our clients."
If you are interested in learning more about the eldercare services we provide or you are looking for in home care solutions in Monroeville PA, please give us a call today at (412) 204-7938. Our dedicated staff is standing by.