Aging Services in Oklahoma City, OK Help Seniors Stay Social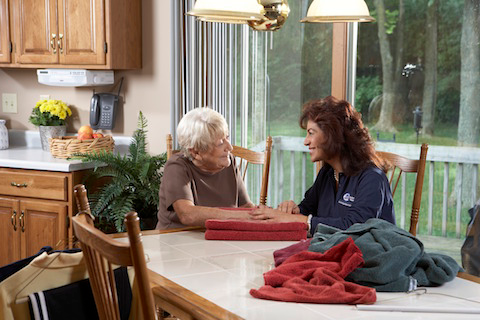 Comfort Keepers® of Oklahoma City, Oklahoma's comprehensive aging services enhance the health and well-being of seniors. Our caring Comfort Keepers partner with families to develop a plan that keeps them actively engaged in life and the activities and interests that give their lives meaning. Our unique approach to in-home care helps seniors stay socially involved, and keep their mind and body active. Staying social also helps strengthen seniors' independence, physical, mental and emotional well being.
Our aging services, such as Interactive Caregiving™, engage seniors in socialization activities to invigorate their minds and promote health and happiness.
Being social is proven to enhance the quality of life for seniors. An important component of Interactive Caregiving™ is conversation and companionship care. Comfort Keepers provide seniors with company and truly enjoy participating in conversation and listening to seniors reminisce. They assist with household tasks and help their clients stay energized by engaging them in social activities that are directly in line with their interests. 
Often times, seniors enjoy sitting down and having a meal with their caregiver. These aging services help seniors get out-and-about by running errands and providing transportation to the doctor's office, shopping and social destinations of their choosing. These social activities help seniors stay connected to their friends and community, strengthening bonds and increasing health and well being.
Some seniors enjoy attending recreational centers, senior centers and local libraries. Often times, these facilities offer classes that assist seniors in learning the basics of Internet usage and social media sites, such as Facebook. Social media provides a sense of community and strong connection with family and friends. 
The use of social media among seniors has increased greatly over the past several years, and continues to rise today. The Internet and social media channels like Facebook and Twitter are valuable tools that help seniors stay connected to family and friends. Our senior caregivers may be able to help with basic social media tasks as well. The spirit of social media is directly in line with our Interactive Caregiving™ philosophy, which transforms day-to-day caregiving into opportunities for meaningful conversation and engaging activities.
The Pew Research Center's Internet and American Life Project reported in 2012 that 53 percent of Americans age 65+ were online—a large increase compared to the 14 percent reported in 2000, and 41 percent in 2011. 
The Pew study also revealed that 33 percent of online seniors use some form of social media, compared to a mere 13 percent in 2009. 
At Comfort Keepers® of Oklahoma City, OK, our trained in-home caregivers are seeing first-hand the positive impact of social media on seniors' lives. The ability to stay up-to-date on the comings and goings of their children and grandchildren, and the unprecedented access to photos and videos, helps seniors remain a vital part of their family's lives, whether near or far. 
Getting out and being social is critical to remaining mentally sharp and happy. Mastering a new skill like social media is a great way for seniors to keep an active mind while adding a new spin on their social life. To get started, check out this Social Media 101 guide.
Contact us today, to see how our Comfort Keepers can help you or your loved one stay social!