Comfort Keepers Offers Home Care Throughout the Oklahoma City Area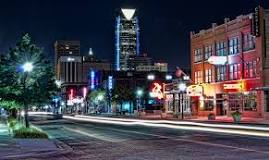 Comfort Keepers offers home care to those located in Oklahoma City and the surrounding areas. When it comes to searching for the best option to take care of loved ones, working with someone who can assist them with daily responsibilities in the comfort of their own home is likely the best choice. Comfort Keepers focuses on offering customized care to those who have mobility issues, dementia, Alzheimer's, and those who require assistance with daily life responsibilities. We do everything we can to offer a helping hand, provide companionship, and make sure our clients end up with a smile on their face.
Comfort Keepers Offers In Home Care That Focuses On Companionship
People by nature are social creatures and Comfort Keepers is there to fill companionship needs. We enjoy participating in conversation, performing activities that are enjoyable, and like to go out and see our local community. Some areas that we like to visit include, the Oklahoma City Natural Memorial & Museum, the Oklahoma City Zoo, and Myriad Botanical Gardens. We realize that our clients get the most out of life when they are active and enjoying their city.
Another advantage to working with Comfort Keepers is that we provide transportation services to and from doctor appointments within the Oklahoma City area. Those clients who have to get to appointments at the Integris Medical Center, the OU Medical Center, and the Southwest Medical Center will be able to get there on time in order to get the medical help they need. In this way, loved ones don't have to worry about handling these responsibilities and can take comfort in the fact that Comfort Keepers is there to help out in this regard.
Since we provide home care services like dementia care, Alzheimer's care, and interactive care giving, Comfort Keepers is able to provide assistance on all levels. From providing assistance a couple hours a week to staying with clients 24 hours a day, we are able to customize our services to meet our client's needs. We provide bathing services, dressing services, meal preparation, and are able to remind our clients when it is time to take their medication. Not only do we put our client's mind at ease, but loved ones can rest assured knowing that we are doing our best.
Comfort Keepers Focuses On The Safety Of Our Clients
Comfort Keepers has close connections with emergency medical facilities within the area. In the event of a medical emergency, we are able to contact the necessary professionals quickly and make sure our clients get the care they need at a moment's notice.
Comfort Keepers can help in almost every situation, however, in a situation where Comfort Keepers cannot assist, we will be able to provide references to local nursing homes and other assisted-living options like, Baptist Village-Oklahoma City and South Park East in the Oklahoma City area.
Those who want to find out more about the in home care services provided by Comfort Keepers in Oklahoma City can call us at (405) 200-1156.