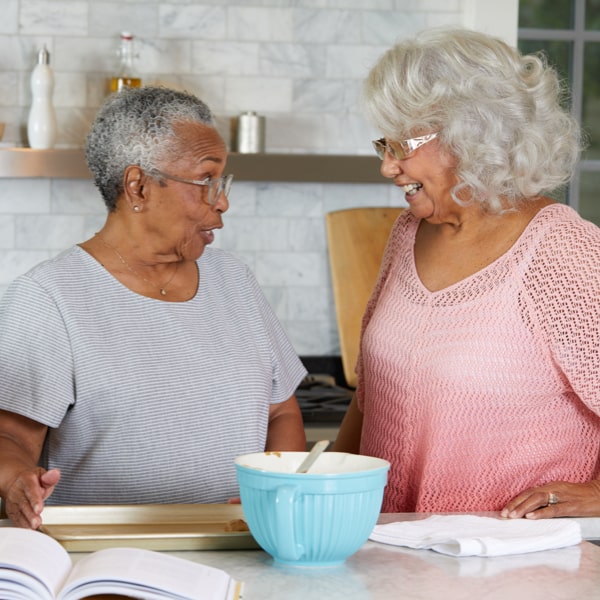 Comfort Keepers Senior Care Services in and around Dayton, OH
Our customizable senior care plans provide flexibility for elders in Beavercreek, Springfield, Huber Heights, Kettering & The Miami Valley Area
Are you concerned that your senior loved one may be in need of senior care services in Dayton, Springfield, Troy or the surrounding areas?
Comfort Keepers is here to help. Our senior care programs are personalized specifically to meet the needs of your loved one, enabling them to continue living at home independently for as long as possible. We are dedicated to elevating the quality of life of your mother or father through a special Comfort Keepers service in Dayton, OH called Interactive Caregiving. Engaging both the minds and bodies of senior adults, Interactive Caregiving incorporates safe exercises, companionship from the caregiver, memory games, community engagement and many more meaningful activities. Our expert home health aides care for your senior loved one the way that we would care for a member of our own family. We offer quality, compassionate in home care services to residents of Beavercreek, Springfield, Huber Heights, Kettering as well as the surrounding Miami Valley area.
We recognize that every senior client of Comfort Keepers has unique needs and may require different levels of care. We also understand that your senior loved one may not wish to enter a senior living facility or nursing home – and you may not wish to place them there. Comfort Keepers can provide your loved one with a personalized in home care plan that is tailored to their exact needs. Whether your family could use a break for a few hours or from the full time care already being provided, we offer the senior care services that you need. Comfort Keepers will work with your family to create the perfect plan of care to specifically serve your senior loved one right at home.
Call (937) 343-4830 or contact us to learn more about Comfort Keepers senior care services in the Greater Miami Valley. We serve Beavercreek, Springfield, Huber Heights, Kettering and the surrounding Miami Valley area.