Paying for Advanced Home Care Services in Marietta, OH and Parkersburg, WV
Learn more about the varying funding options for advanced home care services in the Marietta, OH and Parkersburg, WV areas.
Most of the services required to age in place are considered custodial care. Custodial care is different than medical care. For this reason, payment sources are also different. Custodial care can be funded by current income, retirement savings, long-term care insurance, need-based state assistance programs, the VA, and/or family members paying for services or providing services themselves for free.
Some families have planned and saved for the time in their life when they will need additional help in order to age safely in their home. Others have not been able to do so or did not realize that custodial care is not covered by Medicare.
---
What are Custodial Advanced Home Care Services?
Custodial care and medical care (often called skilled care) can overlap in very confusing ways. As a general rule, medical/skilled care is provided under doctor's order by licensed health care professionals such as nurses, occupational therapists, and physical therapists. Custodial care usually involves non-medical assistance with ADL's and IADL's (such as bathing, toileting, cooking) that are performed by nurses' aides or home health aides. However, in reality, there are times when ADL's and IADL's are provided as part of a medical recovery plan and other times when nursing or therapy services are not covered by insurance.
The big differentiator between custodial and medical/skilled care is whether it is being provided as part of a medical recovery plan or if it is necessitated by the patient's on-going, long-term condition. Generally speaking, Medicare, Medicare Supplemental Plans, health insurance, and state medical cards pay for services necessary for a medical recovery. The amount of services approved are generally predetermined by the diagnosis code and not by the individual patient's needs or wants. As the patient progresses, the responsibility for ADL's, IADL's, and some nursing services are transitioned to the family as custodial care. As with any government regulated activity, there are many confusing exceptions to these basic guidelines.
What are some examples of the difference between custodial & medical care?
When you are hospitalized, your medical care as well as your ADL's (bathing, toileting) and your IADL's (meal preparation, room cleaning) are provided by the hospital. All the care is covered under Medicare and/or your health insurance after copays. When you are discharged to home, you then become responsible to fund some care yourself. Family or a home-care company will have to shop, cook, clean, stay at your bedside, bathe, toilet, and even monitor your wounds or condition in between visits from a home health nurse (assuming you qualify for home health under your diagnosis code). If your family is not equipped to provide such services, you are responsible for hiring qualified help including nurses to change bandages, empty drain tubes, and the like.
Likewise, if at some point in a medical recovery plan, the patient fails to demonstrate continued improvement the covered treatment can be cut short. At that time, all required care is classified as custodial care even though some of it may have to be administered by a licensed nurse under the law. We see this frequently when a patient does not progress during physical therapy sessions in a rehab center and they must be sent home early. Family may want to continue with therapy but in this instance, they will most likely have to pay for it out of pocket.
Another example of the difference is for diabetic patients. Initial diagnosis and treatment are paid for by their medical plan. After the pre-determined amount of care is provided, the patient or their family will have to administer insulin injections themselves or hire a licensed nurse to give them. While the injections are medically necessary for the patient, administering them becomes custodial care because the condition remains for life.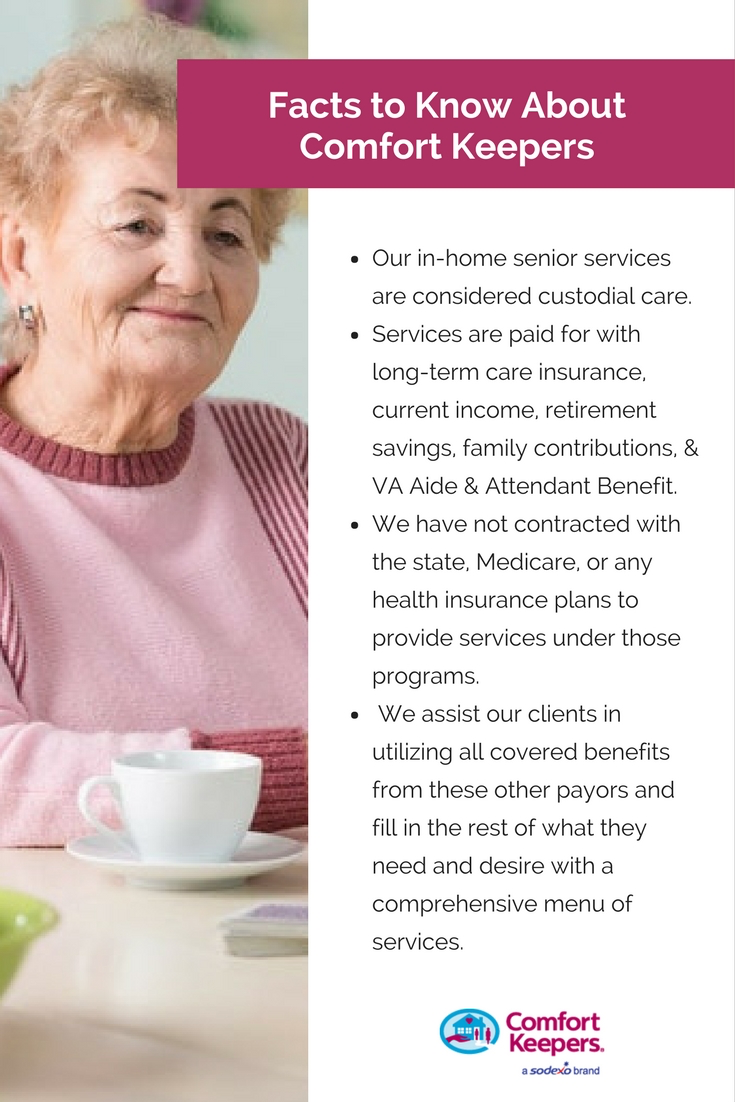 ---
Medicare
Doesn't Medicare pay for senior care?
The reality is that it does not. Most families need some clarification on what portion of their senior loved one's care will be covered by some type of insurance or government assistance and what portion will be self-funded. Understanding the difference between custodial care and medical care as discussed above is the best place to begin.
What Does Medicare Pay For?
As previously mentioned, Medicare covers care in limited circumstances, such as immediately following a hospital stay. Medicare covers short-term, physician-prescribed home healthcare for skilled nursing; physical, occupational and speech therapy; medical social services; and very limited assistance with bathing and other personal care. Medicare does not pay for extended care.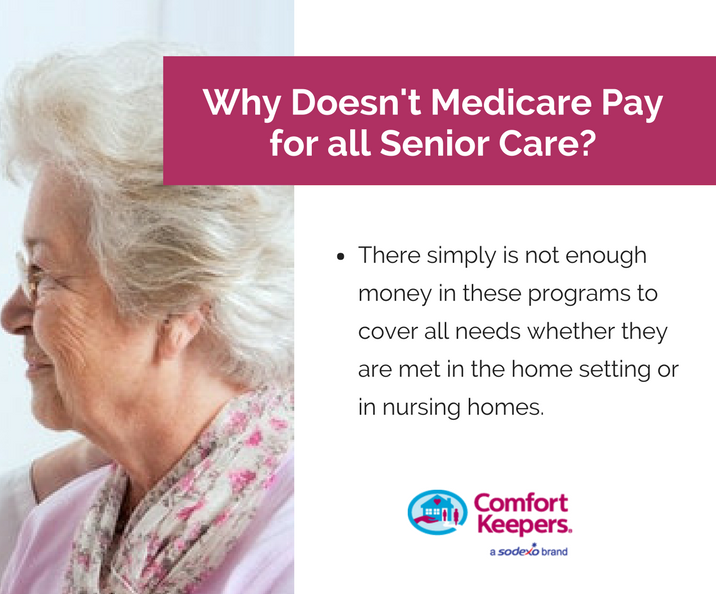 ---
---
---
Long-Term Care Insurance
Long-term care insurance is a specialized type of insurance that must be purchased well in advance of needing it like fire insurance for your house.
It is designed to help families cover the cost of custodial care.
The amount of coverage provided and the terms and conditions vary widely from policy to policy.
Most plans do not cover the full cost of 24/7 home care or nursing home placement.
Comfort Keepers assists our clients who have LTC insurance with opening claims and filing their submissions.
Medicare supplemental insurance plans are not LTC insurance plans.
LTC insurance is very different than medical insurance. LTC insurance companies do not contract with providers to "accept their insurance" or "be in network".
---
Medicaid and State Programs
Medicaid is a government assistance program which can pay for long-term custodial care for seniors that qualify. To qualify, you must have limited income and assets. It pays for nursing home care and some other costs that Medicare does not cover. It may also cover limited in-home care services through agencies contracted with the state. It will not provide around-the-clock in-home care. Comfort Keepers of the Mid-Ohio Valley is not a Medicaid provider.
We refer West Virginia families that believe they might qualify for Medicaid assistance to Central West Virginia Aging Agency at 1-866-546-2164 to explore their options. Ohio families that believe they might qualify for state assistance should contact the Buckeye Hills Regional Council at 1-800-331-2644 extension 2300.
Eligibility guidelines vary by state. Assets considered for eligibility generally do not include homes, cars, household furnishings or burial plots. Seniors may qualify for Medicaid after they have spent their income and assets on advanced home care, nursing home placement, or other health care expenses. This is commonly referred to as the Medicaid "spend down." Be aware that seniors cannot give their money to their heirs to become eligible because there is a "look back period" of usually five years to discover these types of transfers of wealth.
---
Veterans Administration Aid and Attendance Pension Benefit
Veterans and/or their surviving spouses may qualify for Veterans Administration (VA) benefits to cover some of the cost of in-home care. A veteran or a surviving spouse of a veteran who served at least 90 days on active duty with one day during a period of war may be eligible for the VA's non-service connected disability pension. There are income and asset limitations that must be met to qualify. Most families find it exceedingly difficult to work with the VA to receive their benefits. For this reason, Comfort Keepers partners with a consulting/legal firm, American Veterans Care Connection (AVCC), that expedites this process. Our clients have been very pleased with the results. These benefits are for life once qualified.
To learn more about the wide range of services we offer for veterans click here:
---
The Financial Impact of In-Home Care
At first glance, the cost of professional in-home care may look greater than it truly is. That is, until family caregivers honestly consider the value of the time and financial sacrifices made to care for a loved one. Studies show that lost wages, restricted ability to advance at work, increased expenses, and reduced savings have a significant impact on the financial well-being of the primary family caregiver. Usually this impact is felt most keenly when it comes time for the family caregiver to enjoy their retirement and provide for their own senior care.
When working with a reputable, advanced home care agency, you will still oversee the care your loved one receives. You just will not be responsible for the time-consuming, day-to-day caregiving responsibilities. If you use Comfort Keepers, you will also benefit from guaranteed shifts and being able to delegate care management and household management.
If you have been avoiding doing so, now is the time to determine the financial impact that advanced home care makes on your life. You may find that allowing others to do the job is a smart financial decision for the entire family.


At Comfort Keepers, we are proud to provide quality in home assisted living to seniors in:
The entire Mid-Ohio Valley including Marietta, Belpre and Vincent, in OH and Parkersburg and Vienna in WV.
148 Gross St #C, Marietta, Ohio 45750