Comfort Keepers Senior In-Home Care in Mayfield Heights, OH
Do You Have Questions About In-Home Senior Care in The Mayfield Heights Area? Comfort Keepers Can Help.
As a leading provider of in-home senior care and other home care services in Mayfield Heights, OH, our expert caregivers provide personalized senior home care plans crafted to the individual needs and daily living requirements for senior clients located in Mayfield Heights, Ohio.
Our senior home care services focus on elevating the human spirit with meaningful companion care to promote indecent living. The primary senior in-home care services that our experienced Comfort Keepers in Mayfield Heights provide includes:
Alzheimer's & Dementia Care
24/7 Senior Home Care
Respite Senior Home Care
In-Home Companion Care
We help our seniors and older adult clients live an independent, quality life in the safety and comfort of their own home. Family members don't need to consider assisted living facilities, independent living communities, or nursing homes, as their senior loved one can receive the customized care they require and deserve at their own home.
Comfort Keepers Provides Customized In-Home Senior Care Catered to Your Loved One's Unique Needs
In-Home Senior Care Plans in Mayfield Heights
Comfort Keepers is one of the leading senior in-home care agencies in Ohio, helping family members throughout the Mayfield Heights area find in-home senior care for their aging parents and loved ones. Our custom senior home care management plans offer the proper mix of non-medical home care services for your senior loved one and are unique to each of our senior clients. During a free initial in-home consultation, a senior care expert will assess the state of your senior loved one's home and health. After they have gathered as much information about as possible about their needs and desires, our staff in Mayfield Heights, Ohio will develop a unique senior home care plan for your loved one and match them with a suitable, high-level quality in-home senior care provider, better known as their Comfort Keeper. All of our caregivers are handpicked and will work to engage with your senior loved one to elevate their quality of life.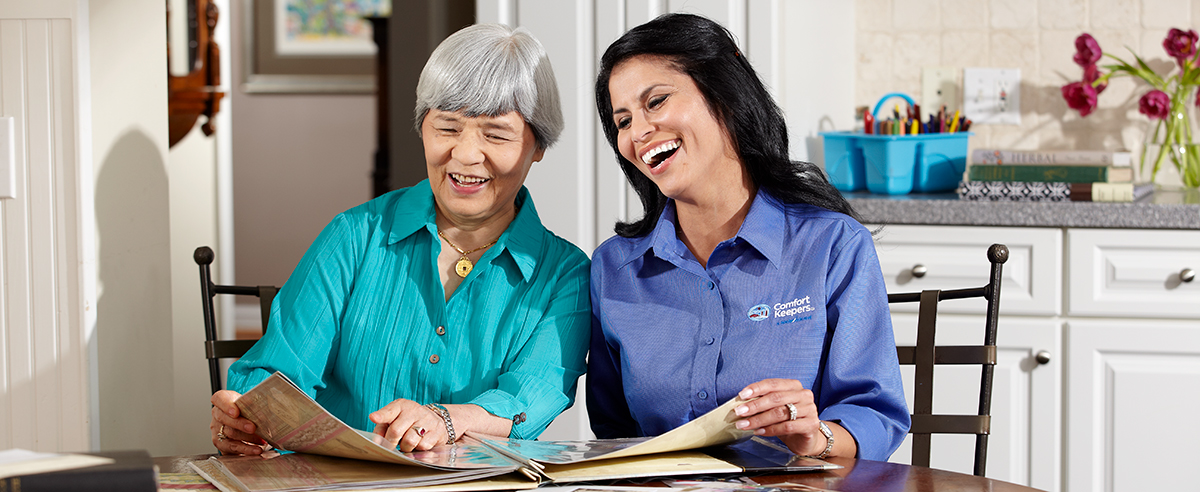 Alzheimer's & Dementia Home Care Services Offered in Mayfield Heights
Comfort Keepers offers Alzheimer's disease and dementia care services that are dedicated to preserving the happiness and independence of seniors living in their own homes for as long as safely possible. Our caregivers are trained to care for those who have Alzheimer's and dementia and are also trained to implement Comfort Keepers' unique Interactive Caregiving™ system. With Interactive Caregiving, the Alzheimer's disease and dementia care caregiver will get to know the senior on a personal level, learning about likes, dislikes, and even past events in the senior's life. While developing a relationship with the senior, the provider can plan activities that could help the senior simulate mental or physical activities that have been shown to create more lucid thought. In addition to companionship, our caregivers provide additional services to help clients with dementia and Alzheimer's lead healthy lives. Our team can assist with food prep, light house cleaning, transportation, and errands.
We Can Provide Our Mayfield Heights Neighbors With 24-Hour Senior Home Care
When someone needs 24/7 care, it's common to think the only option is placing your loved one into a long-term care facility like a nursing home. However, with the Comfort Keepers Mayfield Heights team, that is not the only option. Comfort Keepers offers care and services that allow your loved one to remain safe in the comfort of their own home. We work with your loved one's care team to develop a custom senior home care plan, whether you or a loved one need extra help during the nighttime or value the security of having someone else in the home at all times.
Our highly-trained, compassionate caregivers in Mayfield Heights are available for 24-hour home care services for seniors and other adults who:
need assistance throughout the day and evening.
wake up frequently in the middle of the night
need assistance with personal care
are prone to sleepwalking or wandering
may experience loneliness
need assistance with household chores, preparing meals, shopping, and other errands
need assistance with transportation
Expert & Safe In-Home Senior Care in Mayfield Heights, OH
Comfort Keepers a wide variety of in-home senior care to support independent senior living in Mayfield Heights, OH & surrounding areas. If you have any questions about the senior in-home care Comfort Keepers provides, including anything about care costs, eligibility requirements, criminal background checks of the caregivers, or anything else, please contact our senior care coordinators today. You can reach our direct office phone at (440) 838-5460.
CONTACT OUR SENIOR HOME CARE TEAM IN MAYFIELD HEIGHTS TODAY FOR A FREE IN-HOME CONSULTATION