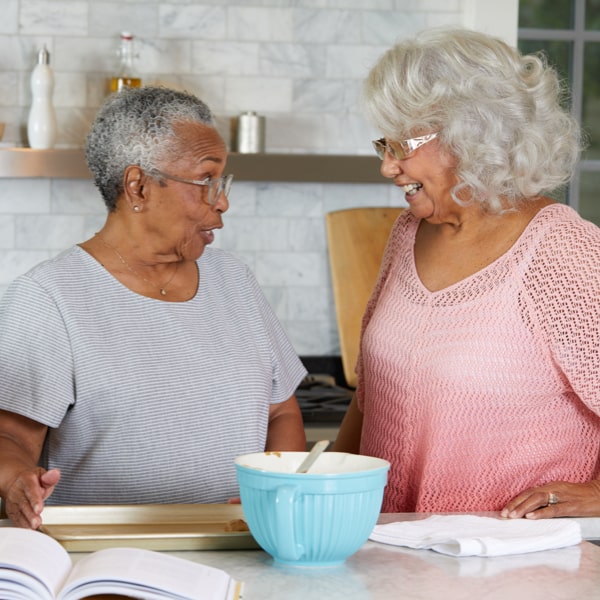 In Home Senior Care Services in Tryon, NC
Quality senior care services in the comfort of home for residents of Tryon, NC and the surrounding areas
Comfort Keepers Home Care gives seniors the ability to live comfortably in their own homes. Seniors want to enjoy the freedom and independence of living in the home they know and love, which is why Comfort Keepers in Tryon, NC offers trusting and senior care services for a wide range of needs.
If your loved one could use a little extra help at home, Comfort Keepers can help. The services we offer vary widely and are tailored to the needs of the senior we're caring for. For example, your loved one may need someone to come in each week to do laundry and light housekeeping. Others might need assistance every day with grooming and bathing. Other services include meal preparation, mobility assistance, transportation, medication management, and toileting care. We also offer specialized dementia and Alzheimer's care, as well as 24-hour care.
Comfort Keepers Senior Care Services
We offer a variety of senior care services for those who need anything from a little help around the house to 24 hour care. With age, it can become more difficult to do everyday tasks, like dishes or laundry. And it can become easier to get injured doing these everyday tasks as well. At Comfort Keepers, we offer light housekeeping, laundry, and meal prep services so that seniors can spend their time and energy doing the things they love. 
For seniors who need a little more assistance, we offer personal senior care services including grooming, bathing, hygiene, and toileting. Keeping up with hygiene can be hard as we age, especially for seniors who have trouble with mobility. Our caregivers provide discreet and private care for seniors who need assistance with these tasks.
Seniors with Alzheimer's, dementia, sleepwalking, or even those recovering from an injury or illness may need 24-hour care. Our caregivers will help your loved one get in and out of bed and make sure that they don't wander during the night.
At Comfort Keepers, we do more than care for your loved one. We encourage them to be social and engage in their hobbies - even if they need a little bit of assistance. Our caregivers can provide transportation for outings, errands, and events. If your loved one enjoys walks, their caregiver can accompany them to help keep them safe. 
To find out more about Comfort Keepers and the senior care services we provide in Tryon, NC and the surrounding areas, call our office at (828) 436-1994 or contact us online.