In-Home Senior Care
Southern Pines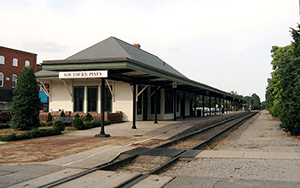 Southern Pines is a charming city with all the amenities seniors need while maintaining a cozy, small town atmosphere. The rich history of the town is evident in the sandy soil and soaring pine trees that define Southern Pines. Seniors living in Southern Pines can continue to enjoy this great city, even as their mobility becomes limited, with the help of a compassionate caregiver from Comfort Keepers. Dependable transportation to wherever your loved one would like to go is just part of the quality services that we provide to Southern Pines seniors.
Comfort Keepers is dedicated to providing superior companion care to the seniors of Southern Pines. Our customized care plans enable you to choose the precise level of assistance needed by your loved one, from a few hours each week to full time care. If housekeeping, meal preparation, or personal care are becoming challenges for your loved one, contact Comfort Keepers for help.
Each Comfort Keepers caregiver is both skilled and compassionate, providing your loved one with practical help, encouragement, and friendship. Our objective is to help each senior in Southern Pines live a healthy, active life while getting assistance when needed.
Call Comfort Keepers of Southern Pines today for a free consultation and customized care plan.
Call us today at (910) 264-8000 to learn more about our special brand of elder care and find out what sets up apart from other home health care agencies in Moore County!
Find Out More
If you would like to find out more about our in home care services in Southern Pines all you have to do is contact us online or by phone. We have a staff member on duty 24 hours a day, 7 days a week to answer any questions you have and schedule your free in-home consultation to discuss your loved one's needs in detail.