Comfort Keepers Respite Care in Charlotte, NC and Surrounding Areas
Respite care helps you rest, recharge, or focus on other important matters in Charlotte, NC
Experts who provide respite care understand that providing care for your senior loved one can be both emotionally and physically draining. Despite the rewards you may experience from being your loved one's primary care provider, such as closeness and bonding, it is also important to take care of yourself throughout this time. You cannot adequately provide the home care your loved one needs when you are not able to meet the needs of your own health and wellbeing. Call us to learn more: (704) 980-7620.
That is why Comfort Keepers of Charlotte is pleased to offer respite services for seniors and family care providers. Our care provides the opportunity for a much-needed break that family caretakers often need to rest, recharge and regain a sense of self. By taking a break from the responsibilities of your loved one's care, you can gain perspective and ultimately avoid burnout that could lead to your loved one's removal from his or her home environment. It helps your loved one, too.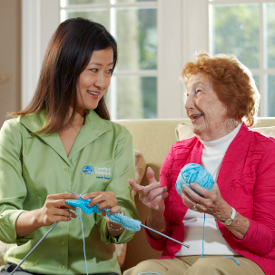 What is Respite Care?
Known in some countries as "short break" care, respite services provide planned short-term breaks for families and other unpaid caregivers who need time outside the home or to simply take a rest. Our care helps support and maintain the primary caregiving relationship.
How We Can Help with Home Care
Respite care can give you time to catch up on life away from your senior family member or visit friends and family members you may not have seen since becoming a full-time caretaker. This can require a few hours, days or even a week of respite services. Respite services afford families the ability to:
Run errands and catch up on nagging task lists
Shop and prepare meals
Attend support group meetings or social functions
Keep doctor's or dentist appointments
Rest, relax and breathe
Our senior care agency offers flexibility with our respite services and is able to provide care for as little as a few hours or up to a week or more while you take a vacation, attend a social function, go to a wedding or visit a child in college or out of state. Our home care aides will work with you to make sure that your loved one's care is seamless and fully meets their needs during the time you are not available.
Find out more about our respite care services today by calling us: (704) 980-7620.