24-Hour In Home Care Toms River, NJ
For those who need 24 hour in home care in Toms River, NJ, a long-term care facility is not the only option. Comfort Keepers® offers 24-hour care that allows seniors to remain in the home they love while receiving the assistance they need.
In addition to the uplifting in-home companionship services and assistance with daily tasks, our highly trained, compassionate caregivers in Toms River are available to offer around-the-clock in home care services.
For seniors and other adults, we can provide:
Assistance throughout the evening and overnight
Company for those that wake up frequently in the middle of the night
Support for Alzheimer's and dementia patients who experience sundowning
Assistance with personal care and routine
Support for those prone to sleepwalking or wandering
Companionship for those prone to loneliness
Assistance with household chores, preparing meals, shopping and other errands
Transportation to appointments
Around The Clock Care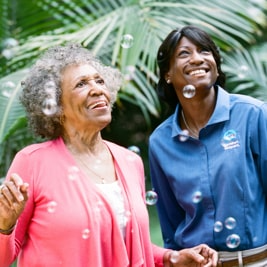 Every Comfort Keepers Toms River clients receives a customized plan of care that accounts for their individual care needs and includes activities that improve quality of life, encourage engagement and keep them mentally and physically well. We provide specialized Alzheimer's and Dementia care training for our caregivers in Toms River, NJ to ensure we provide the best quality services for families with advanced care needs. Comfort Keepers also provides services to those recently discharged from the hospital, post op., and those with limited mobility.
We believe that all residents of Toms River should experience connection, purpose and joy in life, and our individualized care plans include ways to bring daily doses of joy to clients, no matter their age or acuity.
A Higher Standard of Care, 24 Hours a Day
Our individualized care plans allow us to accommodate the unique situations and needs of our clients and their families. We work with a client's entire care team to develop the plan, whether you or a loved one value the security of having someone else in the home at all times or are looking to reach goals that improve quality of life.
We strive to elevate the human spirit through quality, compassionate care. If you or a loved one could benefit from around-the-clock support, contact us to schedule a consultation with one of our care coordinators. We'll provide you with more information on 24-hour home care in Toms River and work with you to develop a plan that meets all your needs for all hours of the day or night.