Veterans Benefits: Adult In Home Care Provider Services in Secaucus, NJ
Proudly providing adult in home care provider services to Veterans in Bergen, Hudson and Essex Counties!
Our Adult In Home Care Provider of Secaucus, Kearny, North Bergen and the surrounding areas will educate you about this important benefit to help pay for care. 
How we can help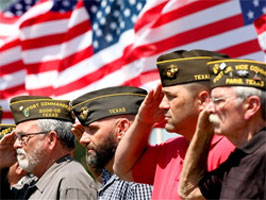 As Secaucus's home care provider of choice, we work to provide you with the information to help you apply for the Aide and Attendance Benefit. Or we will put you in touch with a Veteran's Aide and Attendance Specialist who will take you through the process and apply for you. There is no cost for this help.
Who qualifies for this benefit?
Any individual who served at least 90 consecutive days of active military duty during a U.S. declared war may qualify for eldercare benefits. And if you are the spouse of a veteran who meets these criteria and you need the assistance of an adult in home care provider you may also qualify to receive senior care assistance. This benefit will help you cover costs for the much needed care provided by our agency.
To begin the application process here is what you will need.
Original Discharge certificate
Marriage certificate (divorce papers from any prior marriages, if applicable )
Social Security Numbers for the veteran and spouse
Death certificate of the veteran if applying for spouse
If you are in need of an adult in home care provider and think you or a loved one may qualify for the Aide and Attendance Benefit, please call us at (201) 771-1908 or click on Contact Us on the top of our web page. Our caregivers are here to help and look forward to reviewing your information so we can help you find out more about your eligibility.