A Few Signs That Elderly Family Members May Need Help
Jan 28, 2016 by Eydie Shapiro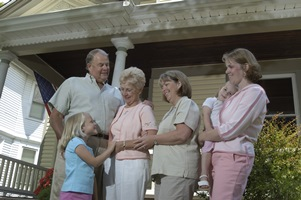 At some point many of us see changes in our parents and other elderly family members and chalk it up to simply getting older.   However, there are some changes that we need to take more seriously, and consider steps that can be taken to help make life easier and safer for our loved ones.
Here is what you might look for:
Visibly poor personal hygiene;

Weight loss and loss of appetite.

Messy home;

Newspapers and mail in piles around the home

Stops going out;

Isolates themselves from good friends and family.

Becoming forgetful;

Missing appointments

Not paying bills

Forgetting to fill prescriptions and not taking medications

Writing checks to scam organizations that frighten older folks into believing they will lose their Medicare - This happens a lot during Presidential elections.

Display of unusual behavior that is opposite of the person's usual demeanor;

 Being loud or overly quiet.

Becoming agitated and paranoid.
Although it is difficult to impose yourself on elderly family members who live independently, there are a few things you can do.
Make it a point of stopping in to visit;
Share a meal.

Spend enough time so that meaningful conversation can occur.
For a messy home;
Ask if you can help clean or

Suggest a cleaning person, Offer to pay for this service.
If you are a son or daughter, speak to your parent's Doctor.  If you have never been to the Doctor with your parent, offer to tag along on the next visit.
Bring up conversations about Medicare.
Reinforce with your loved one that no one is taking their Medicare away.

Deal with fraud right up front.

Do not make your loved one feel stupid for falling for this scam; Tell them you also received mail like this and threw it away.
These are difficult issues to tackle.  Be respectful of your loved one's independence and years of living a successful life.  Move slowly if change is needed and always imagine yourself in their shoes.  After all...you might be there yourself, someday.