Care You & Your Family Deserve
Providing In-Home Post-Hospital Care in Galloway, NJ
We simplify the process for you:
Virtual or In-Home Assessment
Care Plan Creation with the Client Care Coordinator
Assigned a Care Team
Call for a Virtual or In-Home Assessment
One of the most common causes of readmission after a hospital stay is the lack of personalized care and support. If you or a loved one has been recently hospitalized or is scheduled for an upcoming procedure, you may find the experience of organizing post-hospital care to be a challenging task. At Comfort Keepers of Galloway, we are committed to reducing avoidable hospital readmissions and making the transition back to home as simple as possible. Our specialized post-hospital in-home care allows a faster recovery for our clients and provides peace of mind for their families and loved ones.
Why is Post-Hospital Care So Important?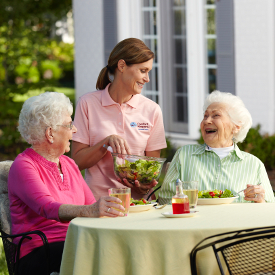 Recovering from injury or illness doesn't end when you or a loved one leave the hospital. Medical events that require a hospital stay can often take weeks, even months, for a full recovery. The fact is that many individuals take recovery for granted, failing to understand the risk of readmission following a hospital stay. Readmission can happen when a condition reoccurs, but it can also happen because of a secondary, related condition. For example, many patients undergo weakness and fatigue after a hospital stay, increasing the risk of a broken bone due to a fall at home.
One of the best ways of reducing hospital readmissions is to ensure your loved one has the help they need around the home. Comfort Keepers post-hospital care ensures your loved one receives the right support needed to increase the likeliness of a full recovery.
Professional Post-Hospital Care Services
Following the first 30 days after a hospital stay, individuals are most at risk for readmission due to falls, mismanaging medications, and failing to meet dietary needs. Thankfully, Comfort Keepers post-hospital care aims to prevent hospital readmissions through the following services:
Help following discharge orders
Continuous monitoring and providing companionship
Medication tracking and reminders
Transportation to follow-up appointments and other errands
Preparing nutritious meals and snacks
Light housekeeping and providing a safe home environment
Communication with care providers and loved ones
At Comfort Keepers, our professional hospital discharge care team captures important information from the discharge planner, allowing us to create a personalized care plan. Our qualified care team is specially trained for the transition from hospital to home and will be there every step of the way. You can have comfort in receiving quality care from us.
Get In Touch With Us
If you have been recently hospitalized or have an upcoming surgery, we can help with all of your post-hospital in-home care needs. To learn more about our care services or to schedule a complimentary consultation, contact Comfort Keepers of Galloway, NJ at (609) 277-7855 today! We look forward to hearing from you!