Interactive Caregiving™
Our distinctive approach to engaging senior care is at the very heart of Comfort Keepers® of Flemington, NJ.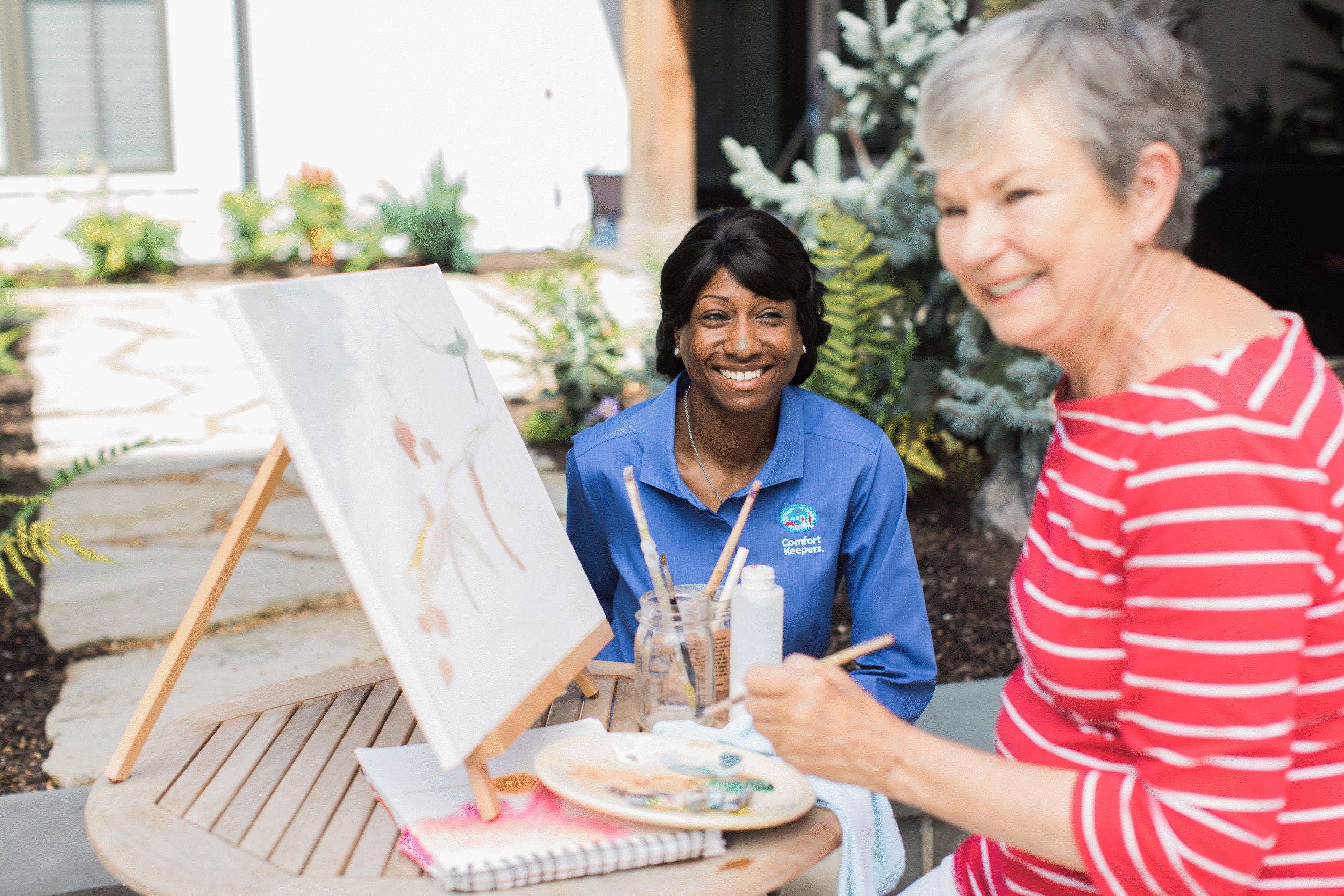 Having the ability to remain in the comfort of their own home for as long as possible is very important for most seniors. Comfort Keepers® can help make this a reality. Our dedicated caregivers, the special people we call Comfort Keepers®, transform day-to-day home care services into opportunities for meaningful conversation and activities that engage and enrich the lives of seniors physically, mentally, socially, and emotionally. We call this Interactive Caregiving™.
Watching an elderly loved one struggle to accomplish simple daily tasks such as bathing or preparing a nutritious meal can be difficult, especially when you know you don't have enough time in the day to give them the help they need. At the same time choosing elderly care services your loved one won't object to can be even more challenging. After all, no one likes to admit they need help, it goes against their sense of independence. At Comfort Keepers® of Flemington, NJ, our caregivers offer Interactive Caregiving™, which strives to provide a more caring and loving form of senior care.
The goal is to improve the quality of life and help seniors to maintain their independence for as long as possible. Examples of Interactive Caregiving™ include walks in the park or around the neighborhood, working together on hobbies and puzzles, playing word games, reading, trips to the community center and the most important exercise of all- simple conversation. Comfort Keepers® still delivers the essential home care services such as light housekeeping, laundry, meal preparation, companionship, bathing, grooming and feeding; but it is Interactive Caregiving™ that caregivers and clients believe makes all the difference.
How Comfort Keepers® Can Help?
Comfort Keepers® uses Interactive Caregiving™ to make a positive difference in the lives of each senior client. Interactive Caregiving™ operates on several primary components, which our caregivers utilize as they care for, engage and interact with their clients:
Physical exercise conditions and strengthens core muscles. This practice reduces the risk of falling, which is one of the leading causes of injury in seniors. Studies show that exercise is more effective in preventing falls than home modifications.

Solving puzzles and reminiscing are important mental exercises. They keep the mind nimble and alert, which fights negative emotions and confusion.

Mental acuity for seniors also comes down to proper diet and hydration. We focus on meal preparation and make sure our clients aren't missing these essentials.

Caregiver companionship promotes home safety. Our preventative measures, including safety technologies, help seniors stay connected with the modern world.
An Interactive Caregiving™ plan is created for each senior client based on his or her personality, unique interests, health, and abilities. This plan will also include a variety of activities such as:
Working together on household chores.

Planning and preparing a meal together.

Discussing current events or personal interests.

Reminiscing while viewing photo albums.

Going for a walk around the neighborhood or at a local park.

Working together on hobbies, puzzles, and crafts.

Playing board games and card games.

Working together on a computer or iPad.

Visiting the local senior center.

Attending community events.

Enjoying and dancing to music.
Seniors who stay actively engaged retain better cognitive function, remain in better physical condition and live happily and independently longer.
Comfort Keepers® of Flemington is accredited by the National Institute for Home Care Accreditation (NIHCA). The National Institute for Home Care Accreditation is an essential tool to finding a safe, reliable, quality home care provider. Because, NIHCA accredited home care providers have met stringent standards of care designed with consumer protection as a central purpose.
When your loved one begins their journey with Comfort Keepers®, our team of professionals will consult with you and other family members to make sure that the proposed plan is indeed the best one for your loved one. We personalize our home care services to match the specific needs of each client, scheduling in-home care services for as little as three hours a visit all the way to full-time, 24/7 around-the-clock care. We will be with you and your loved one every step of the way. Changes and modifications to this plan can be introduced anytime. You can rest assure that your loved one will always receive the care, assistance, and support that Comfort Keepers® is known for both nationally and locally.
For more information on Interactive Caregiving™, or to learn the many ways Comfort Keepers® of Flemington, NJ can help your senior loved ones remain in the comfort of their own home, contact us at (908) 806-2220 or Toll Free at (877) 806-2220. We are available 24 hours a day, 7 days a week, and 365 days a year. We will be able to provide answers to your specific questions as well as schedule a complementary in-home visit so you can meet with a Client Care Coordinator. This visit is the first step in developing a mutual sense of trust and respect that will yield professional, compassionate home care and peace of mind not only for the actual client, but also the extended circle of family and friends. It would be an honor to show you the Comfort Keepers® way.

Our dedicated caregivers, are carefully chosen for their ability to transform the activities they perform into opportunities to communicate and engage with seniors. Each is carefully selected and screened. Our caregivers receive meticulous training on Interactive Caregiving™. Because they are our employees, they are insured, bonded and covered by our workers' compensation. All to ensure you and your family have peace of mind.