Comfort Keeper of the Year: Meet Annabelle!
Meet Annabelle. This adorable young lady just celebrated her 4th birthday, and has been working for Comfort Keepers® for 4-1/2 years!  When Annabelle is not wearing her Comfort Keepers® attire, she can be spotted wearing a Princess dress, complete with accessories, sunglasses and sparkly shoes.  She can never have enough sparkle!
Annabelle is a valuable member of the Comfort Keepers® of Flemington, New Jersey Marketing Department, bringing her sparkle right along with the cheerful "Hello, Comfort Keepers" when answering the phone.  She always has something happy, thoughtful and uplifting to share with you.  Her family often finds her hard at work at her desk, taking care of Comfort Keepers business at all hours of the day...and night!.
Outside the office, her interests include cooking, hiking, skiing, singing, dancing and pets - lots of pets. Annabelle has three dogs, but her heart belongs to the kings and queens of the jungle...the cat!  Annabelle recently declared, "Cats rule and dogs drool!
She is so thankful for all Medical Professionals, First Responders and all those helping out in this time of need.  Annabelle recently crafted the sign below for the special people in the Patient Care Management and Social Work Team at Hunterdon Medical Center.
Congratulations Annabelle!  We are honored and privileged to have YOU as part of the Comfort Keeper family. Thank you for everything YOU do!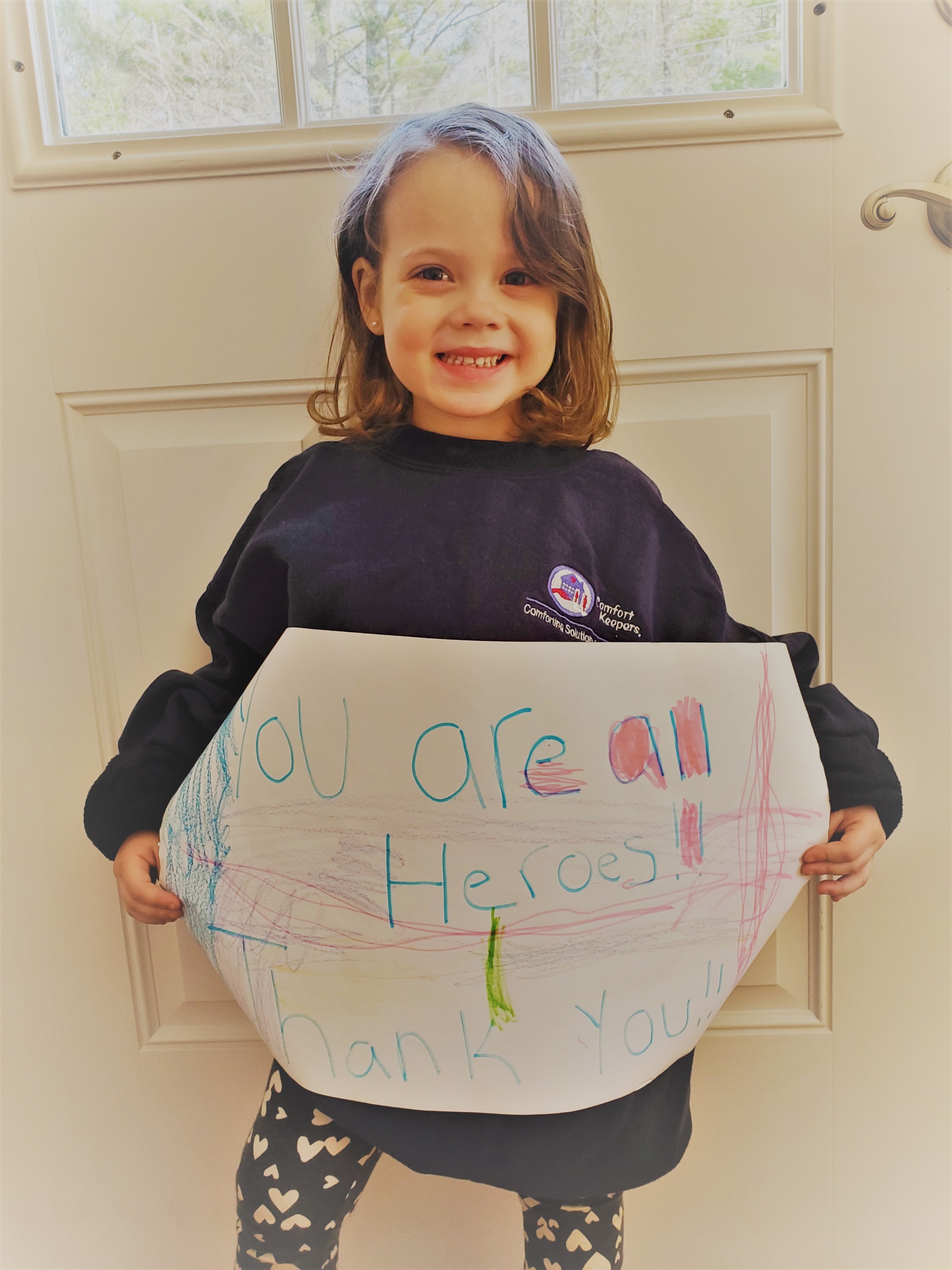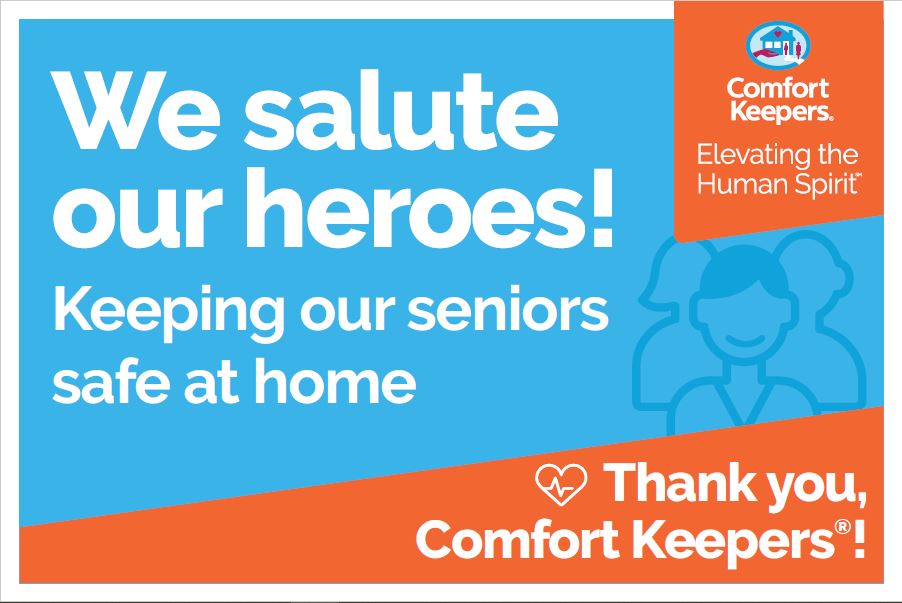 Suzanne M. White
Client Care Coordinator
Suzanne M. White is a Client Care Coordinator for Comfort Keepers of Flemington, New Jersey. Suzanne has been with Comfort Keepers since 2008. She is responsible for facilitating in-home care and support services for Comfort Keeper clients. Suzanne serves as a liaison between our clients and their family members, the Comfort Keepers staff, and our caregivers. Suzanne makes certain all expectations are met, caregivers and clients are compatible, and that caregivers have the necessary skills to satisfy their clients' needs, wants and wishes. She completely understands what our clients and families are going through and what it means to trust the care of your loved one to another. Suzanne looks forward to working with you and your family and to assist you with your in-home care needs. Additionally, Suzanne is on the Executive Board of the Hunterdon County Community Services Council and is an active member of the Hunterdon County Ethics Committee.

Nancy Hmieleski, RN, BSN
Director of Nursing
Nancy Hmieleski, RN, BSN, is the Director of Nursing for Comfort Keepers of Flemington, New Jersey. Nancy has been with Comfort Keepers since we opened in 2006. She is a graduate of Rutgers University's Cook College and has extensive experience as a registered nurse working in hospitals, care facilities, and in-home care. Nancy is responsible for the clinical direction and supervision of patient care services. She interacts with our clients and caregivers assuring the highest standard of in-home care services is provided. Additionally, Nancy oversees the rigorous ongoing training and education for all support staff.

Kelly Balodis
On-Call Coordinator
Kelly Balodis is the On-Call Coordinator for Comfort Keepers of Flemington, New Jersey. Kelly is available to assist you with any after hours and weekend scheduling needs. She will answer any questions you may have about Comfort Keepers services and products as well as assisting you in scheduling a free in-home care visit. Kelly is more than willing to provide you with as much information as needed to help you make the best informed decision regarding in-home care for you or a family member.

Nancy L. Russell
Senior Office Assistant
Nancy Russell is the Office Assistant for Comfort Keepers of Flemington, New Jersey. Nancy has been with Comfort Keepers since 2008. She is responsible for managing the daily administrative functions of the office. Nancy creates, organizes, audits, and maintains every employee and client file according to the Comfort Keepers of Flemington, New Jersey policies and procedures. She assists in the daily scheduling of caregivers and clients by matching caregiver qualifications and availability to client needs. Nancy is in regular communication with our clients and/or their families, and our team of Comfort Keepers, assuring that we have the appropriate support in place to keep our clients happy, healthy, safe, and comfortable at all times.

Judd
Unofficial Therapy Dog
Meet Judd. He is the Comfort Keeper of Flemington, New Jersey, unofficial therapy dog! Judd spends his day chewing on his dog bone while anticipating the daily visit from Maria the mail-woman. In his free time, Judd loves chasing bunnies around the yard and he is an avid swimmer. The "doggie paddle" is his favorite stroke! Feel free to stop by and meet Judd anytime.

Christine Lehr Jeffries
Director of Business Development
Christine Lehr Jeffries is the Director of Business Development for Comfort Keepers of Flemington, New Jersey. Chris has been with Comfort Keepers since we opened in 2006. She is responsible for managing all financial and accounting policies for Comfort Keepers of Flemington, New Jersey including systems and processes, tax and regulatory requirements, payroll systems, financial modeling and the annual business plan. Chris obtained her MBA from Seton Hall University. Chris's passion for the elderly began with her grandparents whom she was very close with. She witnessed their independence compromised over the years to the point where 24-hour in-home care was needed. Chris spent many nights and weekends caring for her grandparents. Although her Grandparents are no longer living, Chris continues to volunteer as a caregiver for those in need.

Marc S. Jeffries
Administrator
Marc S. Jeffries is the hands-on owner of Comfort Keepers of Flemington, New Jersey. Comfort Keepers has been providing in-home care services in Western New Jersey since 2006. Marc has been involved in the in-home care field since graduating from Indiana University in 1987. Marc is responsible for promoting Comfort Keepers customized senior care services and developing lasting partnerships with other health care organizations to offer families in the community a comprehensive support network of senior care solutions. Marc volunteers on various boards and committees within the community including the Hunterdon County Senior Coalition, the Somerset County Senior Networking Coalition, the Warren County Senior Coalition and the Warren County Caregivers Coalition. In addition, Marc is an active Board of Trustee for Volunteer Guardianship One on One, a Flemington, New Jersey, based non-profit organization made of caring individuals dedicated to serving the needs of others who are all alone. If you are ever in the Flemington area, please feel free to stop in and say hello. His office door is always open!
Interested in joining the Comfort Keepers Flemington care team?
We offer competitive compensation, a highly flexible work schedule, and opportunities to impact someone's life in a meaningful and fulfilling way. Whether you're looking for a part-time job senior care job or the start of a new career, we'd love to hear from you.
Browse Jobs