Care You & Your Family Deserve
Providing Live-In Senior Care in Cherry Hill, NJ
We simplify the process for you:
In-Home Assessment
Care Plan Creation with a Nurse
Assigned a Care Team
Call for an In-Home Care Assessment
Live-in care is an in-home care service that offers seniors round-the-clock assistance from a live-in carer.
Typically, live-in care provides seniors one-on-one assistance with personal care and other general daily living tasks that they might turn to family members for help with.
For many families, live-in care from care agencies is the preferred option to a nursing home as it offers seniors the benefits of 24/7 care, all while remaining in the comfort of their own home.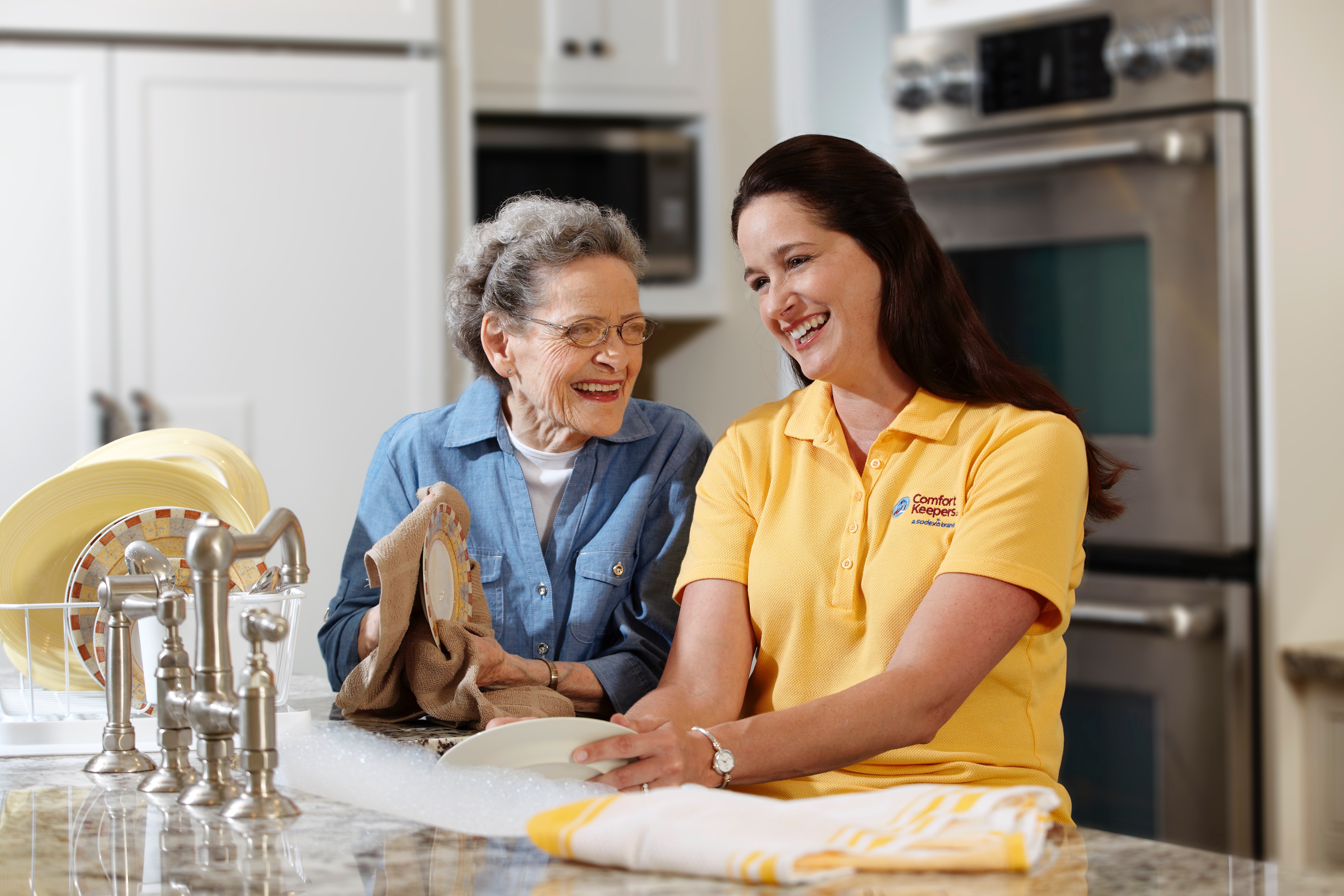 The familiar surroundings of receiving care at home can offer an elderly person many benefits, such as decreased stress and anxiety which can often come from the strain of having to move into a retirement or nursing home.
Comfort Keepers Live-In Care Services
Comfort Keepers of Cherry Hill provides seniors and their families with a variety of in-home care options to ensure that their care needs are being met. While care homes require that the senior live there residentially to receive 24-hour care, our live-in caregivers are able to provide compassionate senior care to your loved one without them having their home.
Comfort Keepers is a leading care provider in many areas of senior in-home care, including Alzheimer's & dementia care, transitioning home care, interactive caregiving, and more.
Trusted Live-In Care in Cherry Hill & the Surrounding Areas
At Comfort Keepers, we pride ourselves on being a compassionate live-in care provider, which is why our Comfort Keepers are subjected to background checks, and we offer extensive training to all of our care workers.
If you're ready to speak with a home care agency and learn more about round-the-clock home care alternatives to residential care, Comfort Keepers of Cherry Hill is ready to help.
The Benefits of Having a Live-In Caregiver in Cherry Hill, NJ
Advantages of Live-in Care vs a Care Facility
The ever-present and continuous comfort of being at home.
The absence of self-induced stress for the client and family due to leaving the home and being relocated to an assisted living facility.
The invaluable benefit of having a one-one staffing ratio (caregiver to client), which is not available in any assisted living facility.
Pets can remain in the home with the client, eliminating the anxiety and trauma of separation for both the client and pet.
Home-cooked meals prepared & served as directed by the client and/or family member according to their personal routine/schedule.
---
Unique Features Provided to our Live-in Clients in Cherry Hill, NJ:
Monthly nursing visits by R.N.
Free monthly medication set-up by RN.
Access to the online Family Room which provides current & timely information on the status of the client.
Available Free GrandPad (for duration of services) - a safe & secure easy-to-use device with many of the similar features of an Apple iPad, but specifically designed for seniors with no-cost replacement if damaged or lost.
Free weekly food shopping service.
Continuous light housekeeping to include changing the bed linens weekly or more often as needed.
Professional & compassionate care provided by experienced, uplifting, trustworthy, reliable & mature NJ Certified Home Health Aides that have successfully passed a national & local background investigation (& continuous monthly follow-ups), and are bonded and insured.
Caregivers receive continuous training in providing professional & compassionate care.
Serving regions of Camden and Burlington Counties



Our Home Care Billing Policies:
Direct billing to your insurance company (upon completion of the elimination period, also known as deductible or waiting period; varies by policy)
No security deposit (with ACH /Credit Card authorizations/no fees charged )
No long term commitment nor is there a penalty for early termination
---
Our Commitment to You:
For the past five years Comfort Keepers of Cherry Hill, NJ has been recognized as a Leader of Excellence within the in-home care industry by Home Care Pulse, the leading national independent surveyor of home care agencies in the country. This designation means that we have consistently placed within the top 5% of providers within the country for client and caregiver satisfaction! We also have been the only agency within South Jersey who has attained this level of excellence for the past two years!


What this means for you is that upon earning your trust and the opportunity to provide services to you or your loved one(s) is that we will be doing everything we can do to exceed your expectations and to provide you with the peace of mind that comes from knowing that you and/or your loved one(s) will be very well taken care of.


Thank you for your time and consideration!

-- Michael & Bethan Grim