Care You & Your Family Deserve
Alzheimer's and Dementia In-Home Senior Care Omaha, NE
We simplify the process for you:
Virtual or In-Home Assessment
Care Plan Creation with the Client Care Coordinator
Assigned a Care Team
Call for a Virtual or In-Home Assessment
Comfort Keepers® is turned to by families who seek quality in-home Care, in-home care services and assisted living home Care Services for their aging loved ones in Omaha, NE and the surrounding areas.
We are a trusted name in the senior care industry, thanks to our highly knowledgeable, gentle and compassionate Comfort Keepers who strive to provide older adults with the most comprehensive care available to meet their physical and cognitive needs while providing a better quality of life.
What is In-Home Care?
In-home care, and in-home care solution from private home caregivers is becoming increasingly common. Care plan (s) are customized to help keep people in their own homes or with family when care needs arise. There are both local and national in-home care companies, as well as referral services and registry services for in-home caregivers helping families that are trying to find the right fit for a private in-home caregiver.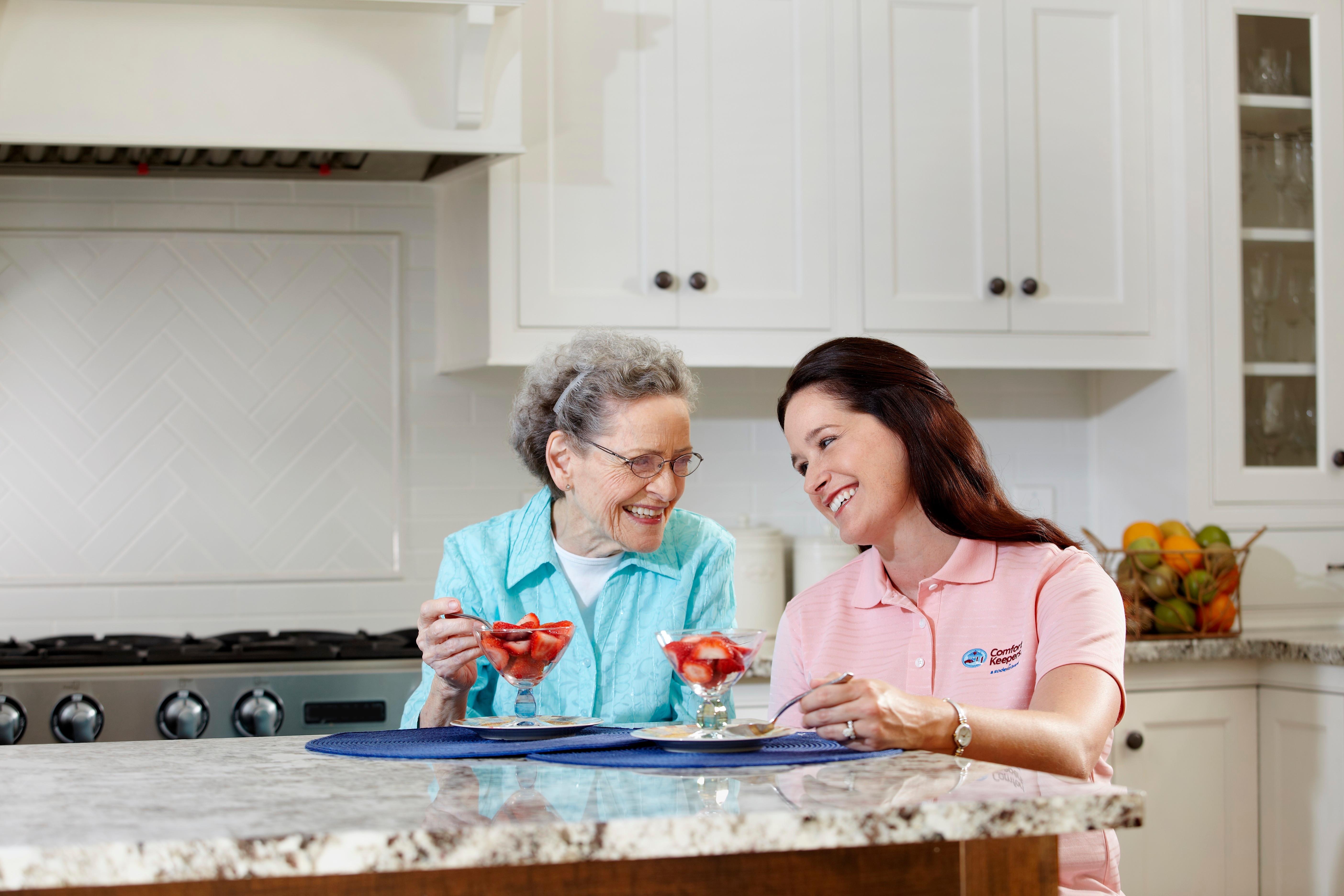 Home care typically refers to non-medical care for seniors. In-home care services traditionally include help with medication reminders, bathing & dressing, companionship, housework, respite care, and more.
Home care providers such as Comfort Keepers are very skilled, and, when taking on the caregiver role as an in-home care provider, they can provide quality services at an attainable price point.
Medicare and Medicaid do not cover in-home care or in-home care services which must be paid for privately..
Care in the home can take on a variety of forms and can involve family, friends, and professional assistance. Most older adults, given an option, would prefer to receive assistance from someone they know, family members, or friends - which is why it is not uncommon for the elderly to receive non-health services from family caregivers.
Finding the Right Care For Your Loved One
There are certain situations when family or friends have tried to providing care, most times this doesn't work out for very long. A professional caregiver is trained to provide your loved one with in-home care services. The in-home caregiver will work with a professionally developed care plan which is customized to your loved one's needs, likes and dislikes. Professional in-home caregivers are matched to provide the help and support that your loved one deserves.
Ask questions that will help you find the best care solutions, such as:
Do your caregivers and home health aides undergo background checks?
Does your agency require hourly shift minimums?
What are the costs of your senior home care?
Additionally, ask if their care team will be able to accommodate any unique needs that your loved one might have. Remember, the purpose of in-home care is to provide you peace of mind, so make sure the in-home care agency addresses your concerns.
Quality Senior Care in the Comfort of Your Own Home
Gone are the days when assisted living communities, nursing homes, and other care centers were the only options available for those seeking exceptional assisted in home living in Omaha, NE. Now, seniors have the option to receive quality care in the comfort of their very own homes, thanks to professional caregivers like those from Comfort Keepers.
Here are just some of the services our Comfort Keepers can provide for you or your aging loved ones:
Companion Care Services – Our Comfort Keepers are prepared to lend a hand with light housekeeping, grocery shopping, and meal preparations. They will also be happy to run errands for your loved ones, provide incidental transportation, and keep them company while participating in recreational activities.
Personal Care – We provide careful personal care service assistance to your loved ones whenever they need bathing, grooming, personal hygiene, toileting, and more.

Dementia Care

– We have specially trained Comfort Keepers who can provide exceptional care to clients with dementia to assist with activities of daily living.
In-Home Care With Comfort Keepers Omaha Can Help
Ready to learn how Comfort Keepers in-home care is different from the rest? Contact us today at (402) 991-9880 to learn more about the services we offer and schedule a free in-home consultation.