Comfort Keepers Offers Interactive Senior Care to Whitehall, MI, and the Surrounding Areas
Comfort Keepers focuses on Interactive Caregiving as part of our senior care to those who are located in Whitehall, MI.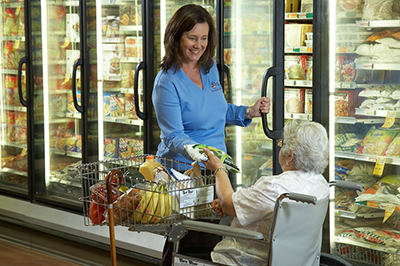 Interactive Caregiving is a crucial service that Comfort Keepers provides as part of our senior care services.  While we focus on assisting our clients in any way possible, the most enjoyable part of our day involves interacting with those we work with.  Our goal is to keep our clients physically and mentally active so they can enjoy their golden years.  Those who are looking for an easy solution for their senior loved ones should turn to Comfort Keepers for help, as we assist our clients in the comfort of their home.
Interactive Caregiving is based on both caregivers and senior clients enjoying time together. Caregivers like to discuss current events, play board games, work on puzzles, and chat with clients in order to keep them mentally active.  In addition, we can go for regular walks around the block, assist seniors with gardening, and move around as much as possible to remain active.
Caregivers can also venture into the community with senior clients and enjoy what Whitehall has to offer.  Some locations that seniors like to visit include, the Heritage Park, the White River Light Station Museum, and other areas around Whitehall.  We know that clients who get out into the neighborhood and enjoy what their city has to offer are typically happier than their sedentary counterparts.  Nothing can replace the benefits of exercising, so we focus on helping your senior loved one remain mobile with our Interactive Caregiving services. If you are considering Comfort Keepers as your senior care provider, be aware that we focus on safety first. If for some reason our client needs medical care, we can quickly alert emergency personnel.  In non-life-threatening situations, we can bring your senior loved one to the Lakeshore Medical Center in the Whitehall area.
Want to find out more about the senior care services provided by Comfort Keepers in Whitehall, MI? Contact us or call (616) 425-8667.