Welcome to Comfort Keepers Home Care in Lutz, FL and All of Pasco County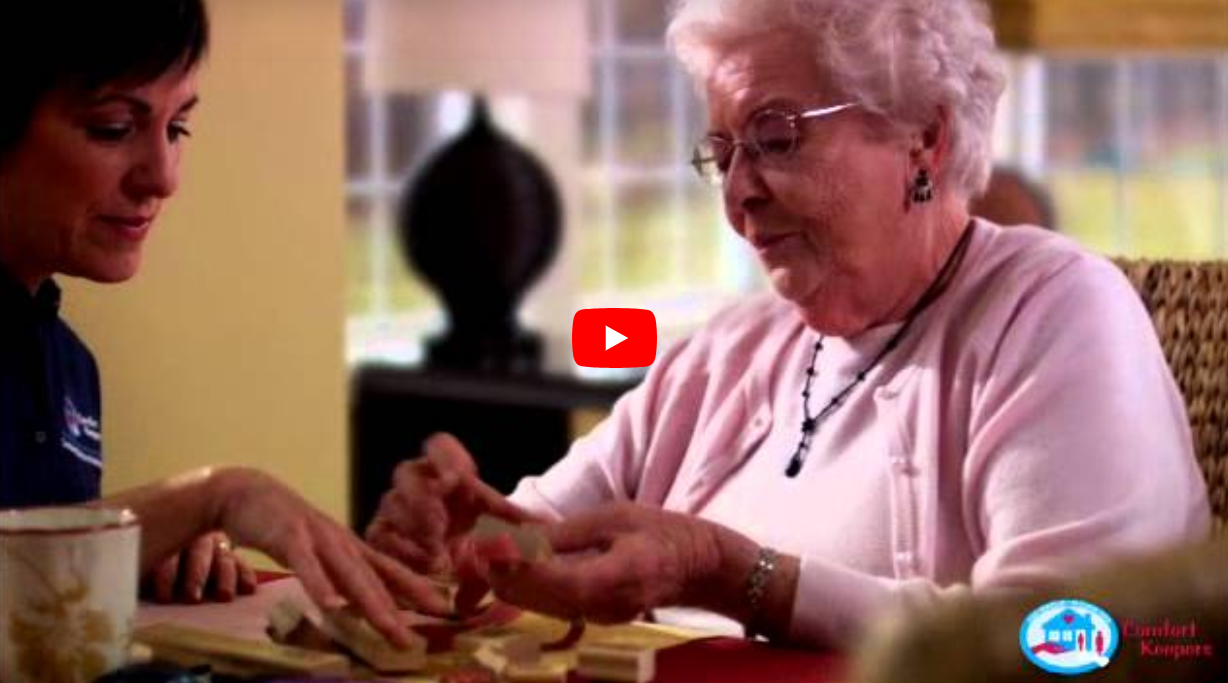 Comfort Keepers Home Care has been providing industry-leading senior care for 20 years. We provide customized care plans tailored to your loved one's needs, which can be modified and updated at any time based on their unique care needs!
Studies have proven seniors prefer to stay in the comfort in their own homes during their golden years. Something about familiarity during this time gives seniors a sense of security and safety. Although, there are many times when a loved one can no longer care for themselves, which leads parents to believe the only option is assisted living. Luckily with Comfort Keepers, seniors have an alternative – home care. We are here to provide a sense of independence, freedom, and overall improve seniors' quality of life.
Our distinctive approach to in-home healthcare, called Interactive Caregiving, is what sets us apart from other care providers. This method is dedicated to uplifting your senior's spirit, provide a fulfilling life, achieve the highest quality of life attainable. How do we do this? Our home care aides go beyond everyday caregiving duties such as providing transportation, preparing meals, assisting with personal care, and help around the house. They are also here to help engage clients, get your loved one participating in activities they loved, maybe pick up a new hobby, spend quality time with them providing conversation and companionship, socialize with friends and family. We do this by placing your senior with the perfect caregiver match. We will send a care coordinator during your free care consultation and evaluate not only their care needs but also their personality, values, and hobbies. This way we can match them with a caregiver with similar interests, so they can form a beautiful and lasting bond.
Whether your loved one has more progressed care needs or the family needs peace of mind the senior is happy and safe, we are here for you! Our Client Care Coordinators work with clients and their families to customize home care plans unique to each client and situation. Care can include companionship, personal care, and Alzheimer's disease and dementia care services. Eldercare can range from just a few hours a week with our respite care plan or up to 24-hour care. Our caregivers are expertly trained, caring, and respectful.
---
NOT SURE WHAT CARE YOU MAY NEED?
If you have worried about your senior loved one living on their own, it might be time to consider in home care. Begin the process by taking a short survey to help you better understand when the time has come to pursue care options.
---
Comfort Keepers of Pasco County, FL provides expert senior care services for the residents of Lutz, Dade City, Holiday, Hudson, Land O' Lakes, New Port Richey, Odessa, Wesley Chapel, and Zephyrhills as well as other communities in Pasco County. Individually owned and operated, Tracy Kelley owns the Comfort Keeper offices of Pasco County, Lakeland, Winter Haven, and Sebring. Tracy and her team are proud to serve the seniors and other disabled adults in the area. Providing senior care to keep our clients healthy, active, and living independently is why we are Comfort Keepers Pasco County, FL.
Call Comfort Keepers Pasco County, FL today at (813) 467-9001 or contact us for more information about our home care services. Our office is available by phone 24/7 to assist you. We understand the difficulties that come with either being a family caregiver or looking for quality services for a loved one in need. We are here to help.
Safer At Home with Comfort Keepers Home Care in Pasco County, FL

HHA 299994676
HHA 299992766
Our owner, Tracy Kelley, was featured on Lifetime's Designing Spaces for a special feature about how our care has enabled one Lake Placid couple to continue to enjoy living in the home they love so much.