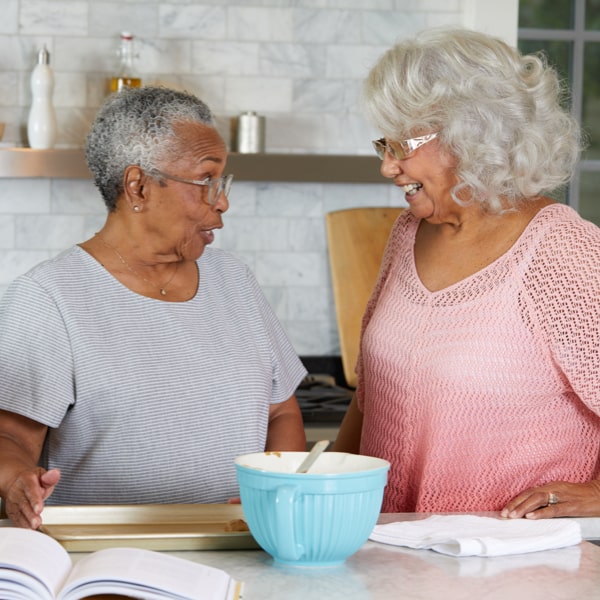 Senior Home Care Services & Solutions from Comfort Keepers in Lutz, FL and All of Pasco County
Now seniors and their families have senior home care choices right at home in Lutz, FL and all of Pasco County
Since we started in this business, we have understood how important it is to tailor to the particular needs of each senior that we care for. We subscribe to the philosophy that senior home care services must be personalized in order to help older adults live higher-quality lives. That is how we have helped so many older adults maintain their independence without ever compromising their safety.
If you or your loved one chooses to become our client, you will understand just how deeply we care about the work we do. Our mission is to help all older adults in our care to continue to age in place and on their own terms. Our senior home care services are designed with seniors in mind and are sure to help your loved one maintain a high level of health, improve their mood, and all-around life better.
We take great care when it comes to deciding who we will hire. Very few individuals that apply for our jobs actually end up getting hired. In fact, only one out of every 25 caregivers who apply to become a part of our team actually ends up getting hired. This is because we choose only the best of the best. It is of utmost importance for us that all of our caregivers are compassionate individuals who love what they do and believe that all older adults deserve the chance to live in dignity and in the comfort of their own home.
We include your loved one as much as possible in their care service plans. This means that we will encourage them to participate as much as possible in daily tasks without compromising their safety. We call this brand of senior home care services Interactive Caregiving, it has shown great results over the years. We believe that helping seniors stay active even in menial tasks helps them feel connected to their care and more in control. Not taking a passive role is important when it comes to self-esteem as well and it can even help seniors who are fighting depression.
If you believe we could be the right choice for your parents, we can schedule a free care consultation. During this consultation, we will meet with your loved one and find out as much as possible about them, including everything related to their care needs. However, we do not stop there. We want to know what your loved one's interests are and what their plans for the future are, as this helps us provide better, more appropriate senior home care services for them.
We are only a phone call away. Please give us a call today at (813) 920-4440!
Comfort Keepers Mission
Our mission is to provide our clients with the highest level of quality of life that is achievable with our in home care services. We shall treat each of our clients with the respect and dignity they deserve, as though we were caring for a member of our own family.
The special people who deliver our unique brand of in home care (We call them Comfort Keepers®.) are carefully selected, screened, and trained to provide professional, compassionate senior home care.
Our Philosophy
Interactive Caregiving™ is based on four primary pillars, which Comfort Keepers leverage to care for, engage, and interact with our clients:
An active senior mind promotes independence, better mental and physical health, happiness, and a longer life.
A physically active senior maintains strength and independence, lessening or delaying the effects of aging.
A well-nourished senior is more energetic, both physically and mentally.
A safe senior lives in an environment that reduces the likelihood of accidents and promotes timely responses when illness or accidents occur.
With our Interactive Caregiving approach, we are able to raise seniors' quality of life to a much higher level than offered by typical in home care providers.
Safer At Home with Comfort Keepers Home Care in Pasco County, FL

Home Care Licensing
License Numbers:
HHA 299992766
HHA 299994676