Comfort Keepers®
In Home Care for Seniors in Arvada, CO
Compassionate in-home care for seniors is essential for maintaining their quality of life. Unfortunately, as we age, our ability to take care of ourselves often declines. This can be due to a number of factors, including reduced mobility, chronic illnesses, and cognitive decline. As a result, many seniors find themselves unable to live independently. That's where Comfort Keepers comes in. We provide seniors with the compassion and care they need to continue living in the comfort of their own homes. With Comfort Keepers, seniors can age in place with dignity and independence.
Here at Comfort Keepers, we understand that compassion is at the core of quality senior care. Our caregivers are selected based on their ability to provide kindness and compassion, as well as their knowledge and experience. We believe that seniors deserve to age in place with dignity and independence, and our caregivers are dedicated to helping them do just that. In-home care provides seniors with the support they need to stay safe and comfortable in their own homes.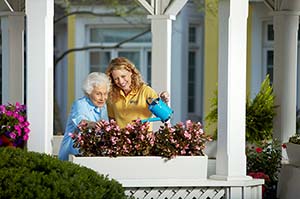 Our caregivers can help with a wide range of tasks, from bathing and grooming to light housekeeping, meal preparation and laundry to personal care and companionship. Our services are customized to meet the unique needs of each individual client, and we offer a flexible scheduling option to ensure that they always get the care they need, when they need it. If you're looking for compassionate in-home care for a senior loved one in Arvada, CO, contact Comfort Keepers today.
You deserve the best possible care for your loved ones. Comfort Keepers of Denver and Arvada is committed to providing you with a personalized in-home care plan that is tailored to your unique needs and situation. Whether you are looking for help with daily tasks and companionship, or you need some extra support while you're away from home, we can provide the care that you need. Our compassionate, professional staff has years of experience providing in-home care for seniors, and we are ready to help you and your family.
If you're looking for compassionate in-home care for your loved one, contact Comfort Keepers today. We'll work with you to create a custom care plan that meets your loved one's needs and ensures they can live a happy, healthy life in the comfort of their own home.
Call us today at (303) 457-4200 to find out more or request a free assessment. You can also contact us online here and we will get right back to you.