In-Home Senior Care
Woodcrest, CA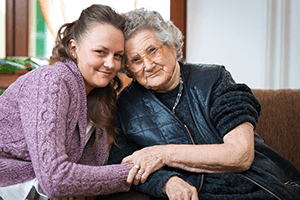 Comfort Keepers of Riverside, CA is an in-home senior care agency that provides temporary, respite or on-going care to seniors in need of assistance. Our services include:
Personal care such as bathing and dressing after an illness or injury
Dementia/memory care
Companion care for doctor visits or weekly shopping needs
Physical assistance including light housework.
If your elderly loved one is struggling with the demands of trying to find a reliable caregiver and a personalized plan of care in the hustle and bustle of the communities around Los Angeles, we can help. Comfort Keepers of Riverside hires and trains skilled professional home health care workers who are employees NOT contractors. Our bonded and insured employees can help with Activities of Daily Living (ADL's) such as showering, grooming and dressing, and can also assist with light housework and transportation.
Aging in place is an achievable goal for many of us and our elderly family members, and with a little help the the risk of accidents and injury can be substantially reduced. If your family member is doing well alone but having some balance or vision issues, tasks such as laundry and cooking can shift from being daily chores to dangerous projects.
For those currently caring for or supporting an elderly loved one, having some help that stops in during the week can make care-giving sustainable. Nobody can care for another person without a break; the work is too demanding and eventually the caregiver will break down too. Our skilled professionals can arrange to stop in and give the caregiver a break, allowing them to leave the home, invest in some self care and run necessary personal errands.
In addition to relieving family caregivers during long hours of personal care, our well-trained professionals can monitor any changes in the condition of your loved one. For example, if your loved one suffers a vision change or new memory (cognitive) issues, you may not be able to see the change on a daily basis as these may be subtle and not readily apparent to the untrained eye.
It can be very difficult to watch a beloved family member suffer memory and movement loss due to aging. Family caregivers may not be able to see the loss of motion or cognizance simply because that loss is so painful. Having an objective professional checking in with your elderly loved one can help you keep an eye on changes that need to be addressed at the doctor's office.
Contact Comfort Keepers for an initial visit to determine if temporary in-home care is right for you and if we can help take the burden off of family caregivers or simply make life a little easier for you and your elderly loved one. Beside temporary or respite care, our California licensed senior care agency provides professional caregivers who are available for long-term care (LTC); we also offer housekeeping assistance, light meal prepapartion and companionship as well as transportion assistance to make the tasks of daily living safer. Our professionals are hired locally and have a detailed knowledge of the area, including the cities of Corona, Castle Park and Mead Valley.