Comfort Keepers Reviews in La Mirada
From seniors to their families to our support team and caregivers, we have an incredible network of exceptionally caring people who chose Comfort Keepers. Read more about what people are saying about Comfort Keepers in reviews for our in-home care, employment, and local franchise ownership.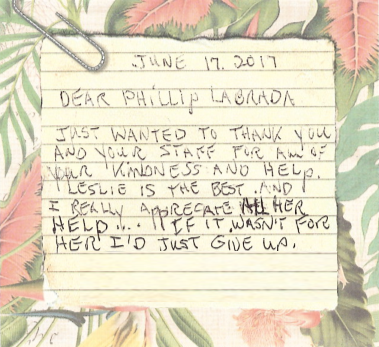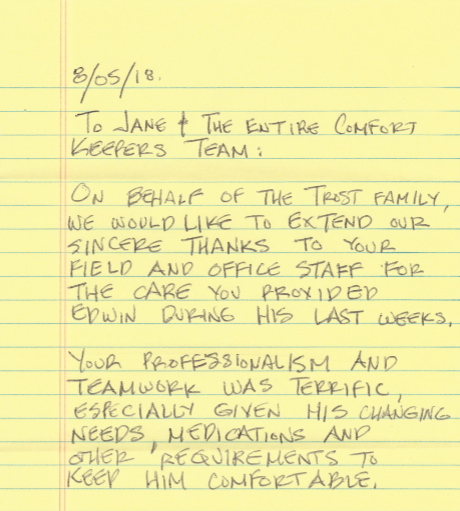 "From the initial phone contact when I spoke to Janet through to the care providers, I found Comfort Keepers to be a caring and professional service. You demonstrated your patience and concern for my mother's situation, and you were open to feedback."
"Little things like preparing herself ahead of time as to the routes she needed to take to ensure she got Dixie to the right place at the right time, thus doing away with any confusion as to appointment locations. This person ensured Dixie took the right medication at the right time and socially interacted with Dixie, making the day very pleasant and giving Dixie a sounding board for conversation. This wonderful employee swept the floors, vacuumed, watered the plants, prepared meals and many other tasks, thereby helping Dixie prevent any accidents."
"I wish to acknowledge the superb contributions to my mother's safety and wellbeing made by the people of Comfort Keepers. Not only did you arrange for her care on very short notice, but every caregiver who came to the house was well prepared for her difficult work. Thank you for taking on the task and performing it in a superior manner. At the outset, I had no idea that your service even existed, much less could be made available so quickly. As the days passed, I was impressed with each of your caregivers as I met them. Every one of them was compassionate and skilled and added a unique touch to her care. You came recommended by a senior advisor and was told yours was the top agency of its kind. She was certainly correct in that judgment."
"I am very pleased that I chose Comfort Keepers. Their commitment to client care and integrity of their staff make families of loved ones completely at ease knowing that they are being looked after the way a family member would look after them. In essence, I am happy to say that Comfort Keepers are our 'extended family.' I would highly recommend Comfort Keepers to anyone who asks for in-home care as they are, in my opinion, the best and most trusted in their field."
"I wanted to send a few words your way regarding the service you and your staff provided to my parents when we were all in a bit of a crisis. We needed care a.s.a.p. I made the first call to Comfort Keepers late in the evening. Not only was it was returned immediately, you found someone to come in the next morning.....and there was NO MINIMUM three or four hour time requirement. WOW! A couple of things after that which exceeded my expectations... your staff made follow up calls to see if everything was going well, you had a staff member visit with my parents to ensure they were comfortable with the caregiver, you provided the same caregiver time and time again to reduce confusion. I spoke with many staff members on the phone when calling in and each and every one of them was courteous, caring and extremely helpful. Thank you for making my job of "caregiver" a much, much easier one. Keep up the good work!"
"I want to personally thank you for taking care of my mom during her last days. Your time with her was special and helped make her comfortable. I have a newfound respect for the care you give people. You are truly special."
"Thank you so much for the assistance you gave us. We were at the end of our rope and didn't know who to turn to. We knew Dad didn't want to go to a nursing home, but we couldn't stay with him 24/7 and carry on with our lives. I was going to quit my job so I could stay with him when Comfort Keepers came into our lives. You were a Godsend."