In Home Senior Care That Supports A Healthy Diet in Huntington Beach, CA
Our caregivers love to make memorable meals your loved one will eagerly anticipate
 Part of the aging process involves not being able to handle many simple tasks like preparing nutritious meals.
You should NEVER let your loved one suffer the effects of malnutrition!
When seniors can no longer handle the chore of cooking, they often turn to processed foods and frozen dinners, none of which contribute to proper senior nutrition.
At Comfort Keepers of Huntington Beach, CA we believe every senior has a right to nutritious healthy meals. Our in home senior care plan includes a caregiver who knows how to prepare delicious meals for your loved one.
Give us a call at (714) 646-6091 to learn more!
Is Good Senior Nutrition Really That Important?
As your loved one moves into their golden years their minds and bodies undergo multiple changes including diminished senses and mobility. By the time you add in the various medications, your loved one is likely to be taking and they could soon:
Find their body becomes slower at absorbing outside nutrients
Start to see a decrease in appetite
Find their body becomes slower at producing natural nutrients
Notice changes in their sense of taste
When your loved one is not getting enough nutrition on a regular basis, the lack of nutrition can lead to more problems with things like illnesses, diseases, broken bones and mobility. To make matters worse, it can take your loved one longer to recover from any of these issues.
The best way to ensure your loved one remains healthy is to ensure they continue to eat a healthy well-balanced diet. 
How Can Our In Home Senior Care Plans Help?
Think of our amazing caregivers as the crusaders of senior nutrition. With their help, our in home senior care plans offer, your loved one will get as much or as little help as they need when meal times come around. Our caregivers can help in many areas such as:
Meal planning – Our caregivers make the time spent planning meals with your loved one fun. They can share recipes, chat, and create menus that will ensure your loved one will continue eating healthy meals.
Grocery shopping – Many seniors find themselves no longer able to drive or handle one of those heavy shopping carts. Our caregivers can provide safe transportation and stay with them while they shop or do the shopping for them. They can even use your loved one's coupons to save money.
Meal preparation – some of the tasks involved in preparing meals can prove to be too much for many seniors. Actions such as peeling, cutting, and chopping can be good for your loved one's hands, it prevents or reduces arthritis and dementia. Our caregivers can help your loved one or take care of all aspects of making the meal.
Assistance with feeding – there are many things such as age itself, illness, disease, or injury that can make it challenging for your loved one to feed themselves. Our caregivers can help your loved one without causing embarrassment. They can even help by preparing meals that are easier to eat.
Putting Together an Incredible Meal Plan
For many seniors trying to live on a fixed income can make it seem like a good idea to buy cheap foods with little nutritional value to save money. However, eating foods like this tends to lead to buying more supplements and medications along with doctor's visits, all of which can cost more money than eating healthy meals.
The good news is that there are a number of local, state, and federal assistance programs designed to help with senior nutrition. They have a lot to offer in the form of food buying assistance and hot meals that can be delivered to your loved one.
These agencies include:
Find out what other benefits your senior qualifies for.
Among the other things you can do to help your loved one save money are:
Keeping foods stored in the fridge or freezer to extend their lives
Watching for sales and coupons
Buying foods that are in season
Comparing food labels, just because an item costs more doesn't make it better!
Planting a garden of fruits and vegetables
Looking for deals at the supermarket and comparing them to those at the farmer's market
Make a shopping list and stick to it
Choosing fresh food options first
Seniors tend to need fewer calories in their daily diets, but without proper nutrition, it's far too easy for them to fall victim to malnutrition. Because of this, it's vital that your loved one's diet includes:
Protein/Fish
Fruit
Vegetables
Whole Grains
Low Fat Dairy
Your loved one's doctor should be able to provide you with a wealth of senior nutrition information as can the caregiver who is part of your loved one's in home senior care plan. Be sure you read the nutrition facts label as not all food products are as healthy as they claim to be.
A typical nutrition facts label: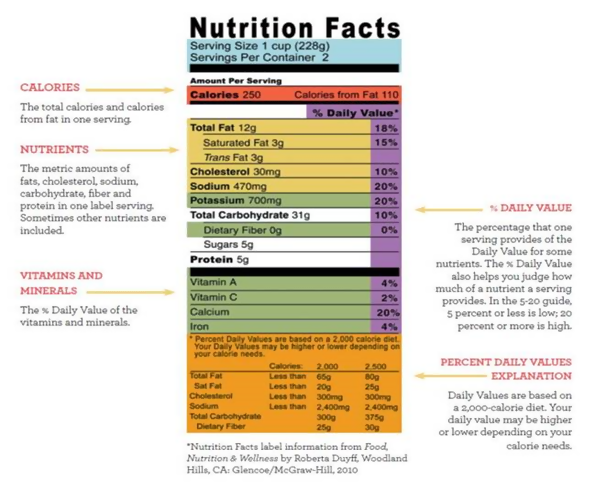 Image provided by the National Council On Aging
Your Loved One Can Still Enjoy Their Favorite Foods
While your loved one does need to keep a close eye on what they eat, it doesn't mean they have to stop eating their favorite foods. You need to learn how to make them using healthy ingredients and less salt, fats, and sugars.
Contact Us
If you are struggling to find ways to manage your loved one's senior nutrition, contact Comfort Keepers of Huntington Beach, CA at (714) 646-6091 and let one of our senior advisors tell you about our in home senior care programs and how they can help your loved one.