Welcome to Comfort Keepers - A Leading Senior Care Provider in Fresno, Clovis, Modesto, and Surrounding Cities
Our in-home care has been lifting people's spirits for more than two decades by assisting seniors in maintaining their independence and finding joy in everyday moments. Seniors can benefit from our uplifted senior care services by focusing on their physical, mental, and social well-being in the convenience of their own homes. To learn more about how Comfort Keepers can help your family in Fresno, Modesto, or another California community, contact our office today for a free consultation.
---
Do You Want to Become a Comfort Keeper?
If you have a heart for helping others, we want to hear from you! There are numerous career paths open to Comfort Keepers. You will help seniors maintain their independence and dignity. You will be a shoulder to cry on and a friend. And you'll be helping to make a difference in the lives of your clients. Please click the button below to apply for one of our open senior care positions.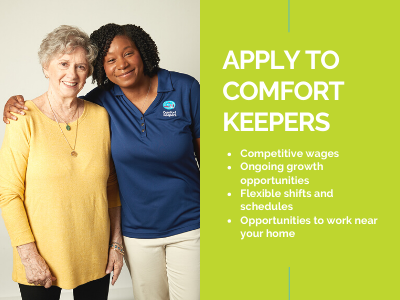 ---
Custom Care Plans for Seniors
At Comfort Keepers, we understand that when someone needs professional senior care, they want to feel secure and comfortable. As a result, we ensure that each client receives personalized attention and exceptional service. We'll handle everything, from appointment scheduling to transportation, so you can focus on what's most important: spending quality time together. Our aim is to improve the quality of life for our clients by delivering essential care. Our elder care services are split into two categories: in-home and specialized care.
Companion care

and friendship in the comfort of your own home is a rewarding experience for you and your family members.

Instead of performing activities for the patient, Interactive Caregiving

requires being able to motivate them to participate and participate actively.

Helping elders maintain their independence by accompanying them to and from events, shopping, and errands is what

senior transportation

is all about.
Dementia Care:

Clients who have dementia are encouraged to participate in intellectual, emotional, and physical activities that are supplementary to medical therapies.

Those who require round-the-clock support and choose to remain in their own homes can take advantage of the 24-hour home care

services that are available.

End-of-life care

is required when you and your loved ones are at their most vulnerable.
---
Not Sure What Care You Need?
Receive a Custom Care Plan When You Schedule a Complimentary Consultation
Comfort Keepers is only a call away for care in Greater Fresno, California that you can rely on! We think that every person deserves exceptional senior care, which is why we provide families with a free, no-obligation care evaluation to help our team better understand your aging loved one's requirements, lifestyle, and personality. Following the completion of the consultation, we will be able to design a tailored care plan for your family. Please contact us today by selecting one of the icons below to learn more about how our in home care can make a difference in your family's life by providing outstanding care at home services.