Comfort Keepers In Home Care in Anaheim, CA
Learn more about Comfort Keepers in home care services available in Anaheim, CA and the surrounding areas
If you want to provide your loved one with the best in home care possible, consider working with Comfort Keepers. Our goal is to make sure your senior has the highest quality of life possible. We treat our clients with respect and dignity and consider them a part of our growing family. Our caregivers are highly trained professionals who are carefully selected to provide care.  
Meet Our Comfort Keepers
All of our in home care providers are highly qualified, bonded, trained, insured, carefully screened, skills tested and references checked. The comfort, safety, and happiness of a senior is extremely important to us. Our caregivers are reliable and punctual. Comfort Keepers are truly invested in their clients and work hard to give them the best quality of life possible.
Referrals
Many nursing homes, home care agencies, rehab centers, and other care facilities refer their clients to us based on the confidence they have in our business. If you know someone who will benefit from our top-quality care, feel free to tell them about us. All referrals are welcome!
Products
Besides in home care services, Comfort Keepers also offers a wide variety of safety products. Our SafetyChoice line of products can keep your loved one safe even when caregivers aren't around. By getting these affordable and reliable devices you can have complete peace of mind regarding your loved one's well-being. Some of our most popular senior care products include personal emergency response systems - which are worn on the body allowing your loved one to call for help at any time - home monitoring systems and medication control devices. We also offer floor mats that will notify our 24-hour control center in case your loved one takes a fall.
Read Our Testimonials
We have many satisfied clients. Read their testimonials and see how we have improved their lives. If you're wondering if in home care is the right choice for you or your loved one, see what they had to say. You will come to see that in home services are a great solution for almost any senior living at home.
Info Center
If you have any questions about Comfort Keepers or home care in general, you might find the answers in our Information Center. You will find our advice on how to start a conversation with your loved one about in home care, details on funding options, important information about wills, trusts, guardians, conservators, and collecting important data. Here you can find answers to frequently asked questions and dozens of articles on various subjects.
---
Comfort Keepers Mission
Our mission is to provide our clients with the highest level of quality of life that is achievable.  We shall treat each of our clients with the respect and dignity they deserve, as though we were caring for a member of our own family.
The special people who deliver our unique brand of in-home senior care (We call them Comfort Keepers®.) are carefully selected, screened, and trained to provide professional, compassionate care.
Our Philosophy
Interactive Caregiving™ is based on four primary pillars, which Comfort Keepers leverage to care for, engage, and interact with our clients:
An active senior mind promotes independence, better mental and physical health, happiness, and longer life.
A physically active senior maintains strength and independence, lessening or delaying the effects of aging.
A well-nourished senior is more energetic, both physically and mentally.
A safe senior lives in an environment that reduces the likelihood of accidents and promotes timely response when illness or accidents occur.
With our Interactive Caregiving approach, we are able to raise seniors' quality of life to a much higher level than typical in-home care providers.
Our Awards
2013 Senior Care Hero Award
The 2013 Senior Care Hero Awards held on October 19, 2013, was a great success!
These awards celebrate the contributions of the unsung heroes in County County's senior care industry including physicians, nurses, social workers, caregivers, administrators, and volunteers. Net proceeds from this event benefit several programs and services offered by Senior-Serv of Orange County, a non-profit organization that maintains independence, wellness, and dignity by securing a home, health, and heart for our elderly citizens. One of their most popular programs is the very successful Meals on Wheels.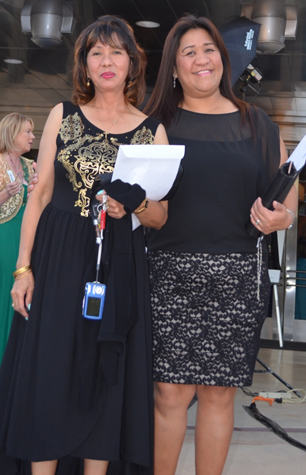 This year, Comfort Keepers of Anaheim was pleased to support and honor our very own caregiver, Lorena Bartolata, as a nominee and finalist in the "Compassionate Caregiver- Home Care" award this year.  We are very proud of Lorena Bartolata, who has been with Comfort Keepers of Anaheim since September 2011.  Lorena is known for her high standard of care excellence.  Lorena, you are our Comfort Keeper of 2013 and will always be a winner with us! Congratulations, Lorena!