Comfort Keepers In Home Care Agency in Lake Havasu City, AZ Presents the Family Room
In Home Care Agency of Lake Havasu City, AZ: Comfort Keepers is proud to present a new and exciting online portal called Family Room!
Comfort Keepers In Home Care Agency of Lake Havasu City is proud to announce its great new tool called the Family Room. The Family Room is an interactive communication portal for keeping everyone informed about your senior loved one's adult care.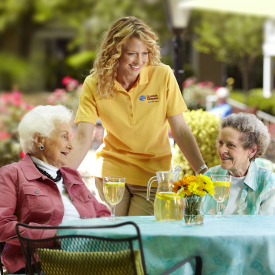 Some family members of elderly care recipients can feel frustrated, confused, or helpless when confronted with conflicting or incomplete information about their loved one's adult care. Some would love to visit more than they are able to.
Via Family Room, any member can view, create, or share information on Dad or Mom's care plan. This keeps everyone in the loop and provides you with equal opportunity to participate in your loved one's home healthcare.
The caregivers working for our in home care agency can supply regular updates on the services that they provide. For instance, they can update a checklist to show completion of tasks added by anyone in the group. Also, with Family Room's shared calendar, you can look at your loved-one's appointments, and can change or delete them when appropriate.
Here's something you probably didn't guess: The Family Room also allows you to view and pay invoices online. As you can see, every facet of adult care is covered.
In-home adult care from Comfort Keepers is finely tailored to each situation. We start off with in-home consultations to learn of your family's needs. During care, our caregivers adjust and modify their services as needed, as they get to know the care recipient even better. Our new tool elevates this approach to new heights.
Family Room is complimentary with home care from Comfort Keepers in home care agency. This utility allows us to deliver care that takes a load off of the minds of your family members—our definition of great home healthcare for the elderly.
Please give us a ring to see what services our professional caregivers can provide for your loved one.