The Great Outdoors - Container Gardening and Senior Health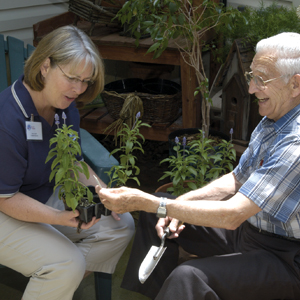 Fresh air and a bit of sunshine are perhaps two things we all take for granted, not realizing the impact both can have on our health. The benefits of spending time in the great outdoors are bountiful - sharper mental states, happier moods, overall improved physical health and a sense of wellbeing. For these reasons, alone, it is important for seniors to be encouraged to enjoy a bit of time every day outside when possible.
A brisk walk around the neighborhood may be sufficient for many seniors. But, consider another outdoor activity which can also boost levels of health and wellbeing: gardening. Gardening has long been declared by healthcare professionals as an activity that can lower blood pressure, reduce stress and alleviate depression. The physical aspects of gardening promote greater mobility as well as fine motor coordination, which is important for seniors as they grow older.
Many people think of gardens in terms of large, dirt-filled plots of land, which may be inappropriate for most seniors. However, over the past decade, gardening in containers of various shapes and sizes has become quite the trend. People of all ages grow shrubs, flowers, trees and even herbs and vegetables in containers rather than planting them in the ground. Container gardens are more manageable for those who have limited time and space, but who enjoy the aspects of gardening. Container gardening is perfect for seniors, as it requires less strenuous work while offering the health benefits of spending time outside as well as the visual colorful fruits of one's labor.
When helping seniors shop for container gardening supplies it is important to choose items conducive to the senior's outdoor space and appropriate for their physical abilities. Be sure to choose plants that require low light for shady spaces, or if the spot is sunny, pick plants appropriate for full-sun. Choose a watering can that is easy for the senior to manage when filled. Plastic pots may be easier to relocate during winter months, but glazed terra cotta pots can add a burst of color if desired. A good pair of pruners and a pair of gardening gloves are essential in maintaining any garden.
Container gardening is a perfect activity for family members or caregivers of seniors to become involved in doing. The responsibility of caring for something gives seniors a sense of purpose. The interaction while gardening together can cultivate a greater sense of self-worth for the senior and reduces the sense of isolation many seniors experience. The rewards can be two-fold - providing the satisfaction of caring for and watching your gardens grow and a sense of togetherness which grows in tandem.

References
WebMD (2000). Gardening for health. Retrieved on April 28, 2012 from webmd.com/healthy-aging/features/gardening-health.
Better Health Channel. Gardening for seniors. Retrieved on April 28, 2012 from betterhealth.vic.gov.au/bhcv2/bhcarticles.nsf/pages/Gardening_for_seniors.