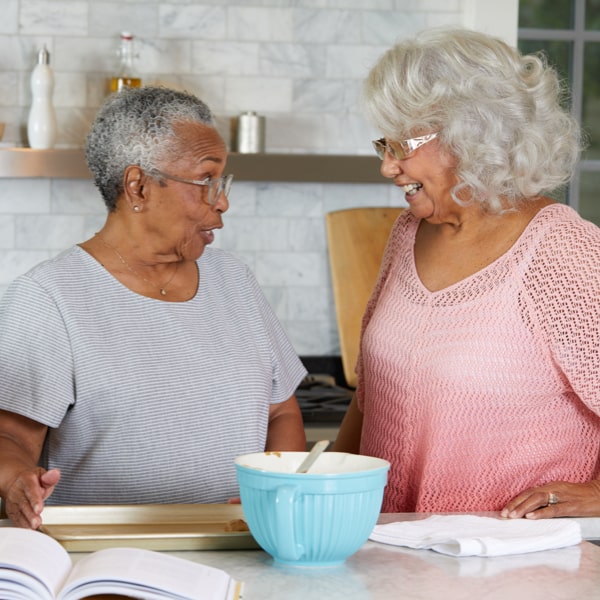 Home Care Services from the Comfort of Home in Grafton, Sheboygan, WI, and surrounding areas
Comfort Keepers provides award-winning and personalized home care services throughout the Grafton area
Making care decisions for yourself or your senior loved one can be a difficult process. At Comfort Keepers, we understand how important it is for seniors to remain in the comfort of home. If you are seeking at-home care services in Grafton, WI or the surrounding areas, our highly trained caregivers are here to help.
We know that your loved one is a unique individual with needs that are specific to them. At Comfort Keepers, we are invested in elevating the spirits of our senior clients and their families through home care services that are tailored to them.
By staying at home, seniors can maintain their connection to their community and enjoy the familiar comforts of home. Studies suggest that seniors are more likely to feel a sense of purpose and happiness when they remain mentally and emotionally engaged and retain independence by living at home. Our caregivers are trained to incorporate activities that bring joy into your loved one's daily life through increased mental, physical, and emotional engagement.
Our at-home care services encompass all your loved one's needs, including physical assistance and emotional wellbeing. Some of the assistance we offer includes:
Safety care via personal emergency response systems and other safety technology
Private duty nursing from Registered Nurses (RNs) or Licensed Practical Nurses (LPNs) for those who need extra care
Companionship to maintain social engagement and mental wellbeing

Assistance with personal care routines and hygiene
Technology support so that our clients can remain in touch with loved ones from afar
Specialized care services including transitional care after a long hospital stay, care for those suffering from Alzheimer's or Dementia, and 24-hour care.
Transportation assistance for those who need to safely get to doctor's appointments or local errands
Communication for Peace of Mind
We know that the well-being of your loved one is your top priority. Whether you live in Grafton, WI, and the surrounding areas, or are based further away, Comfort Keepers is committed to keeping you up to date on the health and happiness of your loved one. We utilize technology to bring you peace of mind via real-time updates, transparency, and communication with your loved one's care team, wherever you are.
Customizable Care Plans
Your senior loved one is still writing their story. Comfort Keepers is here to help with this exciting new chapter in their lives. Our uplifting in-home care services start with an in-home consultation. We will assess you and your loved one's needs and work with you to develop a care plan that is right for you and your loved one.
Our care plans accommodate a range of at-home care services, from clients who only need occasional help with daily tasks, to those who need around the clock assistance. We also offer respite care for primary caregivers who need assistance throughout the day. Fill out our Home Care Survey today for more information and a call from our care team to assist with all your home care needs.